Featured Releases - Août 2020
Gioachino ROSSINI (1792–1868)
Moïse
Libretto by Luigi Balocchi and Étienne de Jouy
Birkus • Balbo • Bills • Dalla Benetta • Dall'Amico • Anderzhanov • Kabongo • Xiang Xu • Carrère • Gorécki Chamber Choir, Kraków • Virtuosi Brunensis • Carminati
Following the French theatre tradition for spectacular biblical dramas during Lent, Rossini's Moïse was an incredible success at its Parisian premiere in 1827, and the opera is presented here in its complete form. Alongside power struggles and miracles, there develops a love story between Pharaoh's son Aménophis and the Israelite Anaï, though the main narrative is that of the Exodus from Egypt: Rossini's riveting score with its spellbinding finales culminates in the parting of the waves of the Red Sea. In this single work, Rossini laid the foundations of grand opera, and it is widely considered to be among his greatest achievements.
| | | |
| --- | --- | --- |
| BUY ONLINE: | | |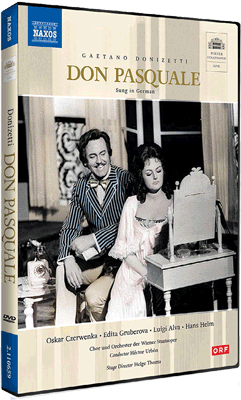 Gaetano DONIZETTI (1797–1848)
Don Pasquale
Libretto by Giovanni Ruffini and Gaetano Donizetti after Angelo Anelli
German version adapted by Joachim Popelka
Czerwenka • Gruberova • Alva • Helm • Chor und Orchester der Wiener Staatsoper • Urbón • Thoma
Donizetti's Don Pasquale represents the high point of the Italian buffa tradition, a sparkling comedy using characters from commedia dell'arte in ways that are entertaining, witty and playful. It was the work selected by the Vienna State Opera for its 1977 tour through Austria. Starring famous singers like the bass Oskar Czerwenka, the great lyric tenor Luigi Alva and, on the cusp of international fame, Edita Gruberova (soon to become the 'queen of bel canto')—this filmed performance, in colour and sung in German, showcases an outstanding ensemble at the height of its powers.
| | | |
| --- | --- | --- |
| BUY ONLINE: | | |
Camargo GUARNIERI (1907–1993)
Choros, Vol. 1
Seresta
Nascimento • Silvério • Graton • Kopylova • São Paulo Symphony Orchestra • Karabtchevsky
INCLUDES WORLD PREMIERE RECORDINGS
Camargo Guarnieri's catalogue of works represents a legacy of incalculable worth for Brazilian culture, as has his influence as a teacher on several generations of younger composers. His association with the poet and musicologist Mário de Andrade led to the birth of the Brazilian Nationalist School and the ideals of using traditional Brazilian music in classical forms. The series of seven Choros and the Seresta for Piano and Orchestra represent Guarnieri's personal approach to the concerto form, with striking contrasts between potent rhythm and dense, emotionally charged soundscapes and melodies full of Brazilian inspiration. This volume forms part of the first complete recording of the Choros.
| | | |
| --- | --- | --- |
| BUY ONLINE: | | |
Valentin SILVESTROV (b. 1937)
Symphony No. 7 *
Ode to a Nightingale† • Piano Concertino *
Galatenko • Bezborodko • Lithuanian National Symphony Orchestra • Lyndon-Gee
* WORLD PREMIERE RECORDING
† WORLD PREMIERE RECORDING OF THE ORCHESTRAL VERSION
Valentin Silvestrov's elusive post-modern style is rich in nostalgia for the lost music of a barely remembered past filled with beauty and spiritual aspiration. Ode to a Nightingale is a masterly response to Keats' unsentimental reflection on human mortality, contrasting with the beauty and affecting intimacy of the Cantata No. 4 and the resonant emotional world of its companion piece, the Concertino. Starkness set against elegiac melancholy are the shared features of Moments of Poetry and Music and the Seventh Symphony—an embodiment of Silvestrov's dual musical nature of anguish and tenderness.
| | | |
| --- | --- | --- |
| BUY ONLINE: | | |
Alexander KASTALSKY (1856–1926)
Requiem
A. Dennis • Beutel • Cathedral Choral Society • The Clarion Choir • The Saint Tikhon Choir • Kansas City Chorale • Orchestra of St Luke's • Slatkin
WORLD PREMIERE RECORDING
Alexander Kastalsky was a student of Tchaikovsky and a mentor to Rachmaninov, becoming director of the Moscow Synodal School until the Bolshevik regime banned all sacred music, including the extraordinary Requiem for Fallen Brothers which consequently lay forgotten for over a century. The Requiem is a rich and varied mosaic that honours those who perished in the First World War, poignantly combining Orthodox and Gregorian chant with hymns from the allied nations, even including Rock of Ages. This unprecedented and peerless monument to those who made the ultimate sacrifice was acclaimed on its 1917 premiere as a 'uniquely Russian requiem that… gave musical voice to the tears of many nations'.
| | | |
| --- | --- | --- |
| BUY ONLINE: | | |
Jake RUNESTAD (b. 1986)
Sing, Wearing the Sky
Choral Music
Kantorei • Joel Rinsema
INCLUDES WORLD PREMIERE RECORDINGS
The prolific young composer Jake Runestad has won numerous awards for his music, which ranges from opera to works for chamber ensemble. He is particularly valued for his choral compositions which exemplify a desire to write expertly crafted, socially conscious and emotionally potent music. On this album, Runestad explores a profound sea/life journey in The Secret of the Sea, and projects a powerful expression of grief in Let My Love Be Heard. Nature is a recurring theme for the composer and he employs texts that exalt the natural world, as well as finding seldom heard sound combinations in the exhilarating Ner Ner.
| | | |
| --- | --- | --- |
| BUY ONLINE: | | |
Tobias PICKER (b. 1954)
Opera Without Words†
The Encantadas
Picker • Nashville Symphony • Guerrero
† WORLD PREMIERE RECORDING
Tobias Picker, hailed as "a genuine creator" by The New Yorker, has written extensively for the stage and for symphonic forces, and these two approaches are represented in this album. The Encantadas (an older name for the Galápagos Islands) derives from a novella by Herman Melville. Picker has set it as a melodrama, exploring the enchanted isles in all their quietly menacing and spectacular beauty. In a radical new form, Picker's Opera Without Words is set to a libretto by Irene Dische that has now been removed, allowing the music alone to bear the expressive richness and intensity of this "secret opera."
| | | |
| --- | --- | --- |
| BUY ONLINE: | | |
Kenneth FUCHS (b. 1956)
Point of Tranquility
Christina's World • Rush • Forever Free
Case • United States Coast Guard Band • A. Williamson
INCLUDES WORLD PREMIERE RECORDINGS
The fifth Naxos recording of works by Kenneth Fuchs with the London Symphony Orchestra, conducted by JoAnn Falletta (8.559824), won the GRAMMY Award in 2018 for Best Classical Compendium. This new album reveals his mastery of the band medium and features the exceptional United States Coast Guard Band, in definitive performances of seven works for symphonic winds by one of America's leading composers.
| | | |
| --- | --- | --- |
| BUY ONLINE: | | |
Fazıl SAY (b. 1970)
Complete Violin Works
Violin Concerto '1001 Nights in the Harem'
Sonatas for Violin and Piano • Cleopatra
Eichhorn • Say • Deutsche Radio Philharmonie • Eschenbach
INCLUDES WORLD PREMIERE RECORDINGS
Fazıl Say is one of the world's most prominent pianists but he is also a much-admired composer with a substantial catalogue of works. He combines both these accomplishments in his two Violin Sonatas, the first of which is suffused with Turkish motifs and dances, such as the horon. The second sonata takes as its theme the abuse of nature and the need to resist despoliation. His Violin Concerto is subtitled '1001 Nights in the Harem' and is full of rich melodies and atmosphere, and features an array of Turkish percussion instruments.
| | | |
| --- | --- | --- |
| BUY ONLINE: | | |