Featured Releases - Septembre 2018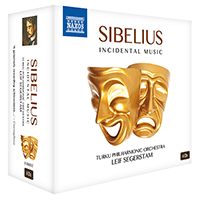 Jean SIBELIUS (1865–1957)
Incidental Music
Pajala • Katajala • Torikka • Söderlund • Eklundh • Palmu • B. Goldstein • Ruottinen • Catheralis Aboensis Choir • Turku Philharmonic Orchestra • Segerstam
Parallel to his great sequence of symphonic masterpieces and tone poems, Jean Sibelius wrote a significant body of music for the theatre. It was with King Christian II and Kuolema that he established his fame throughout Europe while some of his most hauntingly beautiful writing for the stage can be found in Belshazzar's Feast. The tragic pantomime Scaramouche is Sibelius's only continuous dramatic score, the atmospheric and dramatic Pelléas et Mélisande is one of his most popular works and the rarely performed Jedermann is recognised as a hidden masterpiece. Gramophone wrote of these performances: 'Leif Segerstam masterminds a characteristically unhurried, atmospheric display. What an absorbing journey of discovery this series has proved to be; congratulations to everyone involved.'
Gioachino ROSSINI (1792–1868)
Aureliano in Palmira
Libretto by Felice Romani
Dalla Benetta • Viotti • Pitts • Gatell • Camerata Bach Choir, Poznań • Virtuosi Brunensis • Pérez-Sierra
Aureliano in Palmira is unique in Rossini's oeuvre for its inclusion of the only role, Arsace, that Rossini wrote for the castrato voice. Its tale of tragic defeat and the ultimate nobility and triumph of love in seemingly impossible circumstances is a refined and highly innovative example of his style. Set amidst turbulent times in the Roman Empire, Aureliano in Palmira is packed with sublime arias, duets of haunting beauty (notably the three given to Arsace and Zenobia) and excellent choruses, Rossini himself considering this work as 'divine music'. Even after initial success he re-used many of its melodies in later operas, most famously in Il barbiere di Siviglia.
Henri DUTILLEUX (1916–2013)
Symphony No. 1
Métaboles • Les Citations *
Ciabaud * • Tomczak-Feltrin * • M. Petit * • Robine * • Orchestre National de Lille • Casadesus
A fiercely independent composer, Henri Dutilleux wrote music that is refined, colourful and scrupulously crafted. Symphony No. 1, his first purely orchestral score, established his international reputation. Structurally unconventional – it opens, unusually, with a passacaglia – it illustrates his principle of 'progressive growth' through its sustained lyricism and towering, chorale-like statements. Métaboles was inspired by the virtuosity of the woodwind section of George Szell's Cleveland Orchestra. Distinctive instrumentation for each movement allows for deep expression, jazzy rhythms and moments of irony. The enigmatic diptych Les Citations quotes from fellow composers Benjamin Britten and Jehan Alain.
Mieczysław WEINBERG (1919–1996)
Symphony No. 13
Serenade for Orchestra
Siberian State Symphony Orchestra • Lande
WORLD PREMIERE RECORDINGS
Weinberg's Symphony No. 13, dedicated to the memory of his mother, is cast in a single movement that unfolds in a symmetrical arc. A large orchestra is used sparingly in chamber-like textures with motivic ideas that evolve over the course of the work. The result is music of gripping and unsettling power, both emotionally intense and architecturally complex. Some years earlier Weinberg wrote the light-hearted Serenade, Op. 47, No. 4 which offers a study in contrasts: by turn capricious, rumbustious and wistful.
George Frideric HANDEL (1685–1759)
Agrippina
Libretto by Vincenzo Grimani
Bardon • De Niese • Arditti • Mineccia • Balthasar Neumann Ensemble • Hengelbrock • R. Carsen
During his years in Italy, Handel absorbed the music of his contemporaries and mastered new stylistic trends. Though the staging of La resurrezione was a memorable event in the Roman musical world, it was the production of Agrippina that marked Handel's definitive investiture as an operatic composer. It met with enormous success and an unprecedented number of performances followed. Its melodic power is overwhelming and in his creation of credible and vivid characters, the alternation of recitative and arias, and sheer theatrical power, Handel established the template that was to last for the remainder of his operatic career.
Also available on Blu-ray (NBD0078V).
George Frideric HANDEL (1685–1759)
Messiah
(Watkins Shaw Edition)
O'Laughlin • D. Moore • Phan • Outlaw • Concert Artists of Baltimore Symphonic Chorale • Baltimore Symphony Orchestra • Polochick
Of all English oratorios Handel's Messiah has always been the most overwhelmingly popular. It is the least theatrical of his oratorios and the most purely sacred in its choice of subject matter. The vivid choral writing – there are more choruses in Messiah than in any other Handel oratorio – coupled with the expressive density of the solo arias, have ensured its status as one of the greatest choral masterpieces in the Western canon.
The Lully Effect
LULLY, J.B. • TELEMANN, G.P. • RAMEAU, J.P.
Indianapolis Baroque Orchestra • B. Kuijken
This recording realises Barthold Kuijken's long-held desire to restore to Jean-Baptiste Lully, and to French Baroque orchestral works in general, the power and intensity that once held the musical world in thrall. To the grandeur, finesse and diversity of the genre he has brought original source material to inform specific bowing techniques and the use of ornamentation. The result, as with Telemann's Suite in E minor, which stands firmly in the Lully tradition, and Rameau's magnificent Suite from Dardanus, evokes the spectacle and splendour of Versailles.
Joly BRAGA SANTOS (1924–1988)
Piano Concerto *
Symphonic Overtures Nos. 1 and 2
Filipec * • Royal Liverpool Philharmonic Orchestra • Cassuto
WORLD PREMIERE RECORDINGS
Joly Braga Santos was Portugal's greatest orchestral composer, and this recording presents eight world premiere recordings including his very first work for orchestra, the Symphonic Overture No. 1. This and the Symphonic Overture No. 2 share a unified structure and lyrical themes, contrasting with the sombre Prelude, originally written for an intensely tragic opera. Braga Santos's characterful four 'miniatures' are brought together to form an attractive suite, while his only Piano Concerto is a virtuoso spectacle with a large part for percussion and a gloriously anarchic approach to timbre and tonality.
Franz LISZT (1811–1886)
Complete Piano Music, Vol. 51
Poems
Goran Filipec
All of the pieces in this programme have a literary or artistic connection as the background to their creation. Heard here in their first version, the Consolations owe their title to a poem by Alphonse de Lamartine and include a melody that later became the first Hungarian Rhapsody. The meditative Sposalizio was inspired by a painting by Raphael, and the Ballade by Gottfried Bürger's haunting 'Lenore'. Victor Hugo's Après une lecture de Dante is used powerfully by Liszt to express damnation and hope, and the first Mephisto Waltz derived from Lenau's 'Faust' depicts a dance both sinister and amorous.
Toivo TULEV (b. 1958)
Magnificat † 1
Summer rain 2 • Legatissimo † 3 • Tanto gentile 4
Flow, my tears † 5 • I said, Who are You? – He said, You 6
Ezeriete 1 • Martinsone 1 • Ka Bo Chan 6 • Veldi 6 • Juurikas 6 • Krigul 1 • Rosin 1,3 • Latvian Radio Choir 1,2,4,5 • Tallinn Chamber Orchestra 1,6 • Putniņš 1,2,4,5,6
†WORLD PREMIERE RECORDING
The Estonian composer Toivo Tulev has forged a unique sound world. His music, with its almost obsessive focus on religious mysticism, can be sensual and emotional but also cerebral and technically demanding. Tulev often takes inspiration from his extensive travels, in particular from the city of Istanbul which, like his vocal music, bridges East and West. His meditation on the words of Sufi mystic Mansur Al-Hallaj, I said, Who are You? – He said, You, conjures up a transcendent atmosphere, while his Magnificat departs from the text's traditionally solemn setting with its stratospherically high string writing and wild percussion solos.