ERWIN SCHULHOFF
(1906-1984)
PIANO WORKS • 3
SUITE DANSANTE EN JAZZ
9 KLEINE REIGEN • OSTINATO
5 ÉTUDES DE JAZZ
ZEZ CONFREY (1895-1971)
KITTEN ON THE KEYS
---
CAROLINE WEICHERT
"I fell in love with Schulhoff almost 10 years ago and it took me some times to get through all of his works and fully understand his language and underlying message. As I went through the process I discovered that the affinity between my concept of music and "Weltanschauung"and his work was growing stronger and stronger. The decision to publish his complete piano works was therefore a logical consequence. His music can be profound and entertaining, ironic and tragic, structurally complicated and easy to understand, and all at the same time. This third volume of Erwin Schulhoff's complete piano works offers, for example, a unique opportunity to hear the original "Kitten on the Keys" ragtime of Zez Confrey (track 27) and Schulhoff's distinctive arrangement on track 26, rooted in his own classical training and background."
– Caroline Weichert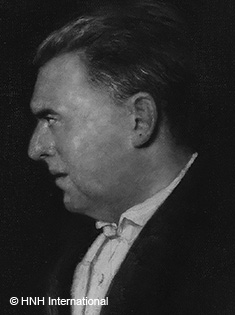 ERWIN SCHULHOFF
(1906-1984)
About this Recording
Spanning almost two decades of Schulhoff's output, this programme includes the rarely heard Neun kleine Reigen, one of the composer's earliest works to exhibit the influence of both jazz and light music, as well as Suite dansante en jazz, one of the last of his works to be overtly indebted to jazz idioms. The six intimate and humorous portraits of everyday life with a child which make up Ostinato show the influence of Expressionism and Dada. The album concludes with Zez Confrey's ragtime Kitten on the Keys to which Schulhoff pays his own tribute in the last movement of Cinq Études de Jazz.
SUITE DANSANTE EN JAZZ (1931) (17:00)
9 KLEINE REIGEN, OP. 13 (15:50)
7
I. Leicht bewegt (01:47)
8
II. Mäßig bewegt (01:24)
10
IV. Feurig, aber sehr rhythmisch (00:50)
11
V. Walzertempo, äußerst kokett vorzutragen (03:01)
12
VI. Ruhig fließend (02:36)
13
VII. Ruhiges Walzertempo (01:59)
14
VIII. Leicht bewegt (01:20)
15
IX. Ruhiges Walzertempo (02:15)
5 ÉTUDES DE JAZZ (1926) (13:16)
26
V. Toccata sur le shimmy 'Kitten on the Keys' de Zez Confrey (02:56)
27
ZEZ CONFREY: KITTEN ON THE KEYS (1921) (03:51)
TOTAL TIME: 57:12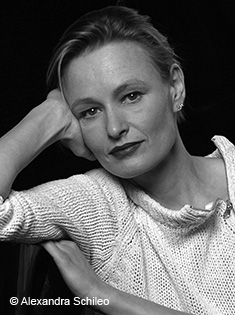 CAROLINE WEICHERT
CAROLINE WEICHERT was a pupil of Renate Kretschmar-Fischer at the Musikhochschule in Detmold, and also studied with Conrad Hansen, Vitaly Margulis and Yvonne Lefébure. A prize-winner at the Busoni, German Chopin and Schubert competitions, she has appeared regularly as a soloist with orchestras such as the Baden- Baden Philharmonie, Nordwestdeutsche Philharmonie and the Telekom-orchester. She received a Discobole award from the Académie du Disque Français for her recording début featuring works by Shostakovich. Weichert's first recording for Grand Piano, Schulhoff Piano Works • 1, received wide critical acclaim, including the prestigious Choc de Classica and Pianiste magazine's Maestro awards.
PREVIOUS RELEASES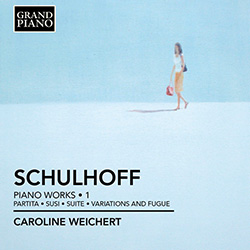 GP604
"The recording is of the top rank, delivering believable presence... Fascinating repertoire, expertly performed and recorded"

- International Piano