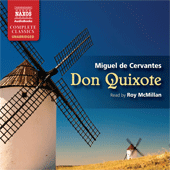 CERVANTES, M. de: Don Quixote (Unabridged)
An old man, enchanted by tales of knightly courage, puts on his rusty armour and sets out on a quest of his own. For him, the world is filled with giants, knights and a peerless mistress. Others, such as his earthy squire Sancho Panza, see windmills, sheep and vulgar serving girls. But such prosaic interpretations do not satisfy the greatest figure in Western literature: Don Quixote.
Quixote's story—moving, funny and thrilling—embodies the glory and absurdity, vanity and idealism, sorrow and delight of humanity. Cervantes created a hero for all time and for all mankind.

Disc 1
| | | |
| --- | --- | --- |
| 1. | | DON QUIXOTE by Miguel de Cervantes [Saavedra] CHAPTER 1 00:06:38 |
| | | |
| --- | --- | --- |
| 2. | | The first thing he did was to clean up some armour… 00:05:18 |
| | | |
| --- | --- | --- |
| 3. | | CHAPTER 2 Which Treats of the First Sally the Ingenious Don Quixote… 00:04:27 |
| | | |
| --- | --- | --- |
| 4. | | Writers there are who say the first adventure he met with… 00:04:30 |
| | | |
| --- | --- | --- |
| 5. | | The host fancied he called him Castellan because he took… 00:05:05 |
| | | |
| --- | --- | --- |
| 6. | | CHAPTER 3 Wherein is Related the Droll Way in which Don Quixote… 00:05:33 |
| | | |
| --- | --- | --- |
| 7. | | Don Quixote promised to follow his advice scrupulously… 00:04:49 |
| | | |
| --- | --- | --- |
| 8. | | But these freaks of his guest were not much to the liking of… 00:04:10 |
| | | |
| --- | --- | --- |
| 9. | | CHAPTER 4 Of What Happened to Our Knight When He Left the Inn. 00:04:14 |
| | | |
| --- | --- | --- |
| 10. | | 'The difficulty is, Sir Knight, that I have no money here…' 00:04:52 |
| | | |
| --- | --- | --- |
| 11. | | After he had gone about two miles Don Quixote perceived… 00:05:41 |
| | | |
| --- | --- | --- |
| 12. | | CHAPTER 5 In Which the Narrative of Our Knight's Mishap… 00:04:38 |
| | | |
| --- | --- | --- |
| 13. | | 'I know who I am,' replied Don Quixote, 'and I know that I may…' 00:04:55 |
| | | |
| --- | --- | --- |
| 14. | | CHAPTER 6 Of the Diverting and Important Scrutiny… 00:06:29 |
| | | |
| --- | --- | --- |
| 15. | | To all this the barber gave his assent, and looked upon it as right… 00:05:22 |

Disc 2
| | | |
| --- | --- | --- |
| 1. | | 'This book,' said the barber, opening another, 'is the ten…' 00:03:46 |
| | | |
| --- | --- | --- |
| 2. | | CHAPTER 7 Of the Second Sally of our Worthy Knight Don Quixote… 00:05:48 |
| | | |
| --- | --- | --- |
| 3. | | In short, then, he remained at home fifteen days very quietly… 00:05:30 |
| | | |
| --- | --- | --- |
| 4. | | CHAPTER 8 Of the Good Fortune Which the Valiant Don Quixote had… 00:05:30 |
| | | |
| --- | --- | --- |
| 5. | | Don Quixote could not help laughing at his squire's simplicity… 00:04:50 |
| | | |
| --- | --- | --- |
| 6. | | So saying, he advanced and posted himself in the middle of the road… 00:03:29 |
| | | |
| --- | --- | --- |
| 7. | | Don Quixote understood him quite well, and answered him… 00:03:48 |
| | | |
| --- | --- | --- |
| 8. | | PART 2 CHAPTER 9 In Which is Concluded the Terrific Battle… 00:04:55 |
| | | |
| --- | --- | --- |
| 9. | | When I heard Dulcinea del Toboso named, I was struck with surprise… 00:03:38 |
| | | |
| --- | --- | --- |
| 10. | | In this history I know will be found all that can be desired… 00:03:29 |
| | | |
| --- | --- | --- |
| 11. | | CHAPTER 10 Of the Pleasant Discourse that Passed… 00:05:24 |
| | | |
| --- | --- | --- |
| 12. | | Sancho took out some lint and ointment from the saddle - bags… 00:06:12 |
| | | |
| --- | --- | --- |
| 13. | | CHAPTER 11 What Befell Don Quixote with Certain Goatherds… 00:07:23 |
| | | |
| --- | --- | --- |
| 14. | | All this long harangue (which might very well have been spared)… 00:05:54 |
| | | |
| --- | --- | --- |
| 15. | | CHAPTER 12 Of What a Goatherd Related to Those with Don Quixote… 00:04:06 |
| | | |
| --- | --- | --- |
| 16. | | About this time the father of our Chrysostom died, and he was left heir… 00:03:48 |

Disc 3
| | | |
| --- | --- | --- |
| 1. | | To proceed; you must know that though the uncle put before… 00:05:19 |
| | | |
| --- | --- | --- |
| 2. | | CHAPTER 13 In Which is Ended the Story of the Shepherdess… 00:05:15 |
| | | |
| --- | --- | --- |
| 3. | | By these words of his the travellers were able to satisfy themselves… 00:05:34 |
| | | |
| --- | --- | --- |
| 4. | | 'Nevertheless,' said the traveller, 'if I remember rightly…' 00:05:09 |
| | | |
| --- | --- | --- |
| 5. | | They therefore made haste to reach the spot, and did so by the time… 00:05:38 |
| | | |
| --- | --- | --- |
| 6. | | CHAPTER 14 Wherein are Inserted the Despairing Verses of the Dead… 00:06:51 |
| | | |
| --- | --- | --- |
| 7. | | The 'Lay of Chrysostom' met with the approbation of the listener… 00:05:06 |
| | | |
| --- | --- | --- |
| 8. | | Honour and virtue are the ornaments of the mind… 00:04:35 |
| | | |
| --- | --- | --- |
| 9. | | With these words, and not waiting to hear a reply, she turned… 00:03:32 |
| | | |
| --- | --- | --- |
| 10. | | CHAPTER 15 In Which is Related the Unfortunate Adventure… 00:03:55 |
| | | |
| --- | --- | --- |
| 11. | | Sancho was the first to come to, and finding himself close to his… 00:04:23 |
| | | |
| --- | --- | --- |
| 12. | | 'In what has now befallen us,' answered Sancho, 'I'd have been well…' 00:04:41 |
| | | |
| --- | --- | --- |
| 13. | | 'For all that let me tell thee, brother Panza,' said Don Quixote… 00:04:23 |
| | | |
| --- | --- | --- |
| 14. | | CHAPTER 16 Of What Happened to the Ingenious Gentleman… 00:04:22 |
| | | |
| --- | --- | --- |
| 15. | | To all this conversation Don Quixote was listening very attentively… 00:03:29 |
| | | |
| --- | --- | --- |
| 16. | | To proceed, then: after having paid a visit to his team and given them… 00:04:34 |

Disc 4
| | | |
| --- | --- | --- |
| 1. | | Maritornes was fretting and sweating at finding herself held so fast… 00:04:22 |
| | | |
| --- | --- | --- |
| 2. | | CHAPTER 17 In Which are Contained the Innumerable Troubles… 00:04:10 |
| | | |
| --- | --- | --- |
| 3. | | By this time the Officer had succeeded in lighting the lamp… 00:05:01 |
| | | |
| --- | --- | --- |
| 4. | | Sancho Panza, who also regarded the amendment of his master… 00:04:46 |
| | | |
| --- | --- | --- |
| 5. | | 'I have little to do with that,' replied the innkeeper; 'pay me…' 00:04:52 |
| | | |
| --- | --- | --- |
| 6. | | CHAPTER 18 In Which is Related the Discourse Sancho Panza Held… 00:05:07 |
| | | |
| --- | --- | --- |
| 7. | | Don Quixote turned to look and found that it was true, and rejoicing… 00:04:50 |
| | | |
| --- | --- | --- |
| 8. | | And so he went on naming a number of knights of one squadron… 00:04:18 |
| | | |
| --- | --- | --- |
| 9. | | So saying, he dashed into the midst of the squadron of ewes… 00:04:18 |
| | | |
| --- | --- | --- |
| 10. | | Don Quixote now rose, and putting his left hand to his mouth… 00:05:06 |
| | | |
| --- | --- | --- |
| 11. | | CHAPTER 19 Of the Shrewd Discourse Which Sancho Held… 00:05:03 |
| | | |
| --- | --- | --- |
| 12. | | He took it into his head that the litter was a bier on which was borne… 00:05:49 |
| | | |
| --- | --- | --- |
| 13. | | 'I would have talked on till to - morrow,' said Don Quixote… 00:05:36 |
| | | |
| --- | --- | --- |
| 14. | | CHAPTER 20 Of the Unexampled and Unheard - of Adventure Which… 00:04:09 |
| | | |
| --- | --- | --- |
| 15. | | When Sancho heard his master's words he began to weep in the most… 00:04:31 |
| | | |
| --- | --- | --- |
| 16. | | 'What art thou talking about dismounting or sleeping for' said Don… 00:04:10 |

Disc 5
| | | |
| --- | --- | --- |
| 1. | | 'It came to pass,' said Sancho, 'that the shepherd carried out his intention…' 00:03:42 |
| | | |
| --- | --- | --- |
| 2. | | Just then, whether it was the cold of the morning that was now… 00:04:38 |
| | | |
| --- | --- | --- |
| 3. | | Sancho began to weep afresh on again hearing the affecting… 00:04:38 |
| | | |
| --- | --- | --- |
| 4. | | 'No more of that, senor,' returned Sancho; 'I own I went a little too…' 00:04:33 |
| | | |
| --- | --- | --- |
| 5. | | CHAPTER 21 Which Treats of the Exalted Adventure… 00:04:42 |
| | | |
| --- | --- | --- |
| 6. | | He left the basin on the ground, with which Don Quixote contented… 00:04:17 |
| | | |
| --- | --- | --- |
| 7. | | 'I have never been in the habit,' said Don Quixote, 'of taking spoil…' 00:05:19 |
| | | |
| --- | --- | --- |
| 8. | | Straightway it will come to pass that she will fix her eyes upon… 00:05:20 |
| | | |
| --- | --- | --- |
| 9. | | 'Thou needst not doubt it, Sancho,' replied Don Quixote, 'for in…' 00:06:13 |
| | | |
| --- | --- | --- |
| 10. | | CHAPTER 22 Of the Freedom Don Quixote Conferred on Several… 00:05:22 |
| | | |
| --- | --- | --- |
| 11. | | 'And I think so too,' answered Don Quixote; then passing on… 00:05:03 |
| | | |
| --- | --- | --- |
| 12. | | Behind all these there came a man of thirty, a very personable fellow… 00:04:14 |
| | | |
| --- | --- | --- |
| 13. | | The commissary lifted his staff to strike Pasamonte in return… 00:04:07 |
| | | |
| --- | --- | --- |
| 14. | | 'That is all very well,' said Don Quixote, 'but I know…' 00:04:16 |
| | | |
| --- | --- | --- |
| 15. | | CHAPTER 23 Of what befell Don Quixote in the Sierra Morena… 00:06:19 |
| | | |
| --- | --- | --- |
| 16. | | While so engaged he raised his eyes and saw that his master had halted. 00:06:25 |

Disc 6
| | | |
| --- | --- | --- |
| 1. | | The Knight of the Rueful Countenance was still very anxious to find… 00:05:23 |
| | | |
| --- | --- | --- |
| 2. | | 'Tell me, good man,' said Don Quixote, 'do you know…' 00:03:59 |
| | | |
| --- | --- | --- |
| 3. | | 'We forced him to release his hold with no little difficulty…' 00:03:24 |
| | | |
| --- | --- | --- |
| 4. | | CHAPTER 24 In Which is continued the Adventure of the Sierra Morena. 00:04:04 |
| | | |
| --- | --- | --- |
| 5. | | 'My name is Cardenio, my birthplace one of the best cities of this…' 00:04:59 |
| | | |
| --- | --- | --- |
| 6. | | It so happened, then, that as between friends no secret… 00:05:16 |
| | | |
| --- | --- | --- |
| 7. | | It so happened, then, that Lusinda having begged of me a book… 00:05:01 |
| | | |
| --- | --- | --- |
| 8. | | CHAPTER 25 Which Treats of the Strange Things That Happened… 00:04:56 |
| | | |
| --- | --- | --- |
| 9. | | 'Senor,' replied Sancho, 'is it a good rule of chivalry…' 00:05:03 |
| | | |
| --- | --- | --- |
| 10. | | 'There is the point,' replied Don Quixote, 'and that is the beauty of…' 00:04:22 |
| | | |
| --- | --- | --- |
| 11. | | 'This is the place, oh, ye heavens, that I select and choose…' 00:05:25 |
| | | |
| --- | --- | --- |
| 12. | | 'Purgatory dost thou call it, Sancho' said Don Quixote… 00:05:09 |
| | | |
| --- | --- | --- |
| 13. | | But all things considered, what good can it do the lady… 00:05:53 |
| | | |
| --- | --- | --- |
| 14. | | 'By the life of my father,' said Sancho, when he heard the letter… 00:05:38 |
| | | |
| --- | --- | --- |
| 15. | | CHAPTER 26 In Which are Continued the Refinements Wherewith… 00:03:40 |
| | | |
| --- | --- | --- |
| 16. | | And then it occurred to him how he might make one… 00:03:10 |

Disc 7
| | | |
| --- | --- | --- |
| 1. | | As for Sancho Panza, coming out upon the high road… 00:05:34 |
| | | |
| --- | --- | --- |
| 2. | | It gave them no little amusement, both of them, to see what a good… 00:04:56 |
| | | |
| --- | --- | --- |
| 3. | | CHAPTER 27 Of How the Curate and the Barber Proceeded… 00:05:35 |
| | | |
| --- | --- | --- |
| 4. | | And still more surprised were they when they perceived that… 00:05:42 |
| | | |
| --- | --- | --- |
| 5. | | As they, both of them, desired nothing more than to hear… 00:06:01 |
| | | |
| --- | --- | --- |
| 6. | | But the night before the unhappy day of my departure she wept… 00:05:20 |
| | | |
| --- | --- | --- |
| 7. | | To proceed: as soon as Lusinda saw me she said, 'Cardenio, I am…' 00:05:06 |
| | | |
| --- | --- | --- |
| 8. | | 'The priest stood waiting for Lusinda, who for…' 00:04:56 |
| | | |
| --- | --- | --- |
| 9. | | 'Thus soliloquising and agitated, I journeyed onward for…' 00:04:45 |
| | | |
| --- | --- | --- |
| 10. | | PART FOUR CHAPTER 28 Which Treats of the Strange and Delightful… 00:06:04 |
| | | |
| --- | --- | --- |
| 11. | | While the curate was speaking, the disguised damsel stood as if… 00:05:45 |
| | | |
| --- | --- | --- |
| 12. | | The moment the speaker mentioned the name of Don Fernando… 00:06:32 |
| | | |
| --- | --- | --- |
| 13. | | When Cardenio heard her say she was called Dorothea, he showed… 00:03:21 |
| | | |
| --- | --- | --- |
| 14. | | 'All these questions and answers passed through my mind…' 00:04:08 |

Disc 8
| | | |
| --- | --- | --- |
| 1. | | Cardenio heard the name of Lusinda, but he only shrugged… 00:03:58 |
| | | |
| --- | --- | --- |
| 2. | | What I learned revived my hopes, and I was better pleased not to… 00:04:02 |
| | | |
| --- | --- | --- |
| 3. | | CHAPTER 29 Which Treats of the Droll Device and Method… 00:05:00 |
| | | |
| --- | --- | --- |
| 4. | | Cardenio and Dorothea thanked him, and accepted the kind offer… 00:05:28 |
| | | |
| --- | --- | --- |
| 5. | | By this time Dorothea had seated herself upon the curate's mule… 00:04:44 |
| | | |
| --- | --- | --- |
| 6. | | Don Quixote then mounted Rocinante, and the barber settled himself… 00:04:56 |
| | | |
| --- | --- | --- |
| 7. | | The curate, seeing the danger of discovery that threatened… 00:05:02 |
| | | |
| --- | --- | --- |
| 8. | | CHAPTER 30 Which Treats of Address Displayed by the Fair Dorothea… 00:06:15 |
| | | |
| --- | --- | --- |
| 9. | | '"Don Quixote,"' he must have said, senora,' observed Sancho… 00:05:48 |
| | | |
| --- | --- | --- |
| 10. | | The last words of his master about not wanting to marry… 00:05:22 |
| | | |
| --- | --- | --- |
| 11. | | 'Let your worship ask what you will,' answered Sancho…' 00:05:36 |
| | | |
| --- | --- | --- |
| 12. | | CHAPTER 31 Of the Delectable Discussion Between Don Quixote… 00:05:41 |
| | | |
| --- | --- | --- |
| 13. | | 'She is generous in the extreme,' said Don Quixote… 00:05:27 |
| | | |
| --- | --- | --- |
| 14. | | 'I hold thou art in the right of it, Sancho,' said Don Quixote… 00:04:29 |
| | | |
| --- | --- | --- |
| 15. | | 'All that your worship has said is quite true,' answered the lad… 00:04:07 |

Disc 9
| | | |
| --- | --- | --- |
| 1. | | CHAPTER 32 Which Treats of What Befell Don Quixote's Party… 00:04:51 |
| | | |
| --- | --- | --- |
| 2. | | 'Hush, child,' said the landlady; 'it seems to me thou knowest…' 00:04:46 |
| | | |
| --- | --- | --- |
| 3. | | 'Try that bone on another dog,' said the landlord… 00:04:03 |
| | | |
| --- | --- | --- |
| 4. | | CHAPTER 33 In Which is Related the Novel of 'The Ill - Advised…' 00:05:33 |
| | | |
| --- | --- | --- |
| 5. | | It happened, however, that on one occasion when the two… 00:05:01 |
| | | |
| --- | --- | --- |
| 6. | | Such were the words Anselmo addressed to Lothario… 00:05:25 |
| | | |
| --- | --- | --- |
| 7. | | Either thou dost not hold her to be what thou sayest, or thou… 00:05:24 |
| | | |
| --- | --- | --- |
| 8. | | Remember there is no jewel in the world so precious as a chaste… 00:05:27 |
| | | |
| --- | --- | --- |
| 9. | | 'When God created our first parent in the earthly paradise…' 00:05:48 |
| | | |
| --- | --- | --- |
| 10. | | That night, however, he thought of a plan by which he might deceive… 00:06:11 |
| | | |
| --- | --- | --- |
| 11. | | Unhappy, shortsighted Anselmo, what art thou doing, what art thou… 00:05:40 |
| | | |
| --- | --- | --- |
| 12. | | CHAPTER 34 In Which is Continued the Novel of 'The Ill - Advised…' 00:05:50 |
| | | |
| --- | --- | --- |
| 13. | | Anselmo was completely satisfied by the words of Lothario… 00:05:59 |
| | | |
| --- | --- | --- |
| 14. | | It so happened that finding herself on one occasion alone… 00:04:02 |
| | | |
| --- | --- | --- |
| 15. | | All that Camilla could do was to entreat Leonela to say nothing… 00:04:26 |

Disc 10
| | | |
| --- | --- | --- |
| 1. | | Anselmo was amazed, overwhelmed, and astounded at the words… 00:05:36 |
| | | |
| --- | --- | --- |
| 2. | | 'Ah, senora,' said the crafty Leonela, who knew her part… 00:05:19 |
| | | |
| --- | --- | --- |
| 3. | | Anselmo, hidden behind some tapestries where he had concealed… 00:05:15 |
| | | |
| --- | --- | --- |
| 4. | | As she uttered these words, with incredible energy and swiftness… 00:03:47 |
| | | |
| --- | --- | --- |
| 5. | | Camilla replied that she believed she was right and that she… 00:03:24 |
| | | |
| --- | --- | --- |
| 6. | | CHAPTER 35 Which Treats of the Heroic and Prodigious Battle… 00:05:02 |
| | | |
| --- | --- | --- |
| 7. | | Who could have helped laughing at the absurdities of the pair… 00:05:19 |
| | | |
| --- | --- | --- |
| 8. | | There is no need of saying whether Camilla was agitated or not… 00:04:10 |
| | | |
| --- | --- | --- |
| 9. | | This disastrous intelligence almost robbed Anselmo not only of… 00:03:49 |
| | | |
| --- | --- | --- |
| 10. | | CHAPTER 36 Which Treats of More Curious Incidents that Occurred… 00:05:07 |
| | | |
| --- | --- | --- |
| 11. | | The instant she recognised him, with a prolonged plaintive cry… 00:06:21 |
| | | |
| --- | --- | --- |
| 12. | | All this and more the injured Dorothea delivered with such earnest… 00:04:30 |
| | | |
| --- | --- | --- |
| 13. | | And the curate bade him remember that only death could part… 00:05:41 |
| | | |
| --- | --- | --- |
| 14. | | CHAPTER 37 In Which is Continued the Story of the Famous Prince… 00:05:10 |
| | | |
| --- | --- | --- |
| 15. | | 'I am informed, fair lady, by my squire here that your greatness…' 00:04:16 |
| | | |
| --- | --- | --- |
| 16. | | 'I tell thee again, Sancho, thou art a fool,' said Don Quixote… 00:04:42 |

Disc 11
| | | |
| --- | --- | --- |
| 1. | | By these words he excited a desire in all who heard him, to know… 00:04:28 |
| | | |
| --- | --- | --- |
| 2. | | Since, therefore, arms have need of the mind, as much as letters… 00:04:17 |
| | | |
| --- | --- | --- |
| 3. | | CHAPTER 38 Which Treats of the Curious Discourse Don Quixote… 00:04:07 |
| | | |
| --- | --- | --- |
| 4. | | For what dread of want or poverty that can reach or harass… 00:04:43 |
| | | |
| --- | --- | --- |
| 5. | | CHAPTER 39 Wherein the Captive Relates his Life and Adventures. 00:05:37 |
| | | |
| --- | --- | --- |
| 6. | | It is now some twenty - two years since I left my father's house… 00:05:47 |
| | | |
| --- | --- | --- |
| 7. | | We returned to Constantinople, and the following year… 00:06:40 |
| | | |
| --- | --- | --- |
| 8. | | CHAPTER 40 In Which the Story of the Captive is Continued. 00:05:57 |
| | | |
| --- | --- | --- |
| 9. | | I, however, was one of those on ransom, for when it was discovered… 00:05:24 |
| | | |
| --- | --- | --- |
| 10. | | We made trial as before, each of the same three going forward… 00:04:26 |
| | | |
| --- | --- | --- |
| 11. | | Judge, sirs, whether we had reason for surprise and joy… 00:06:03 |
| | | |
| --- | --- | --- |
| 12. | | These were the words and contents of the second paper, and on… 00:04:53 |
| | | |
| --- | --- | --- |
| 13. | | CHAPTER 41 In Which the Captive Still Continues his Adventures. 00:04:31 |
| | | |
| --- | --- | --- |
| 14. | | It would be beyond my power now to describe to you the great… 00:04:17 |
| | | |
| --- | --- | --- |
| 15. | | While we were still engaged in this conversation, a Moor came… 00:04:16 |

Disc 12
| | | |
| --- | --- | --- |
| 1. | | The Christians who were to row were ready and in hiding… 00:05:28 |
| | | |
| --- | --- | --- |
| 2. | | Finding herself now on board, and that we were about to give way… 00:05:37 |
| | | |
| --- | --- | --- |
| 3. | | 'Daughter, is this true, what he says' cried the Moor. 'It is…' 00:05:05 |
| | | |
| --- | --- | --- |
| 4. | | But neither could her father hear her nor we see him when she said… 00:05:52 |
| | | |
| --- | --- | --- |
| 5. | | The dawn came, more slowly, I think, than we could have wished… 00:03:37 |
| | | |
| --- | --- | --- |
| 6. | | As soon as the horsemen understood that we were Christian captives… 00:03:41 |
| | | |
| --- | --- | --- |
| 7. | | CHAPTER 42 Which Treats of What Further Took Place in the Inn… 00:05:38 |
| | | |
| --- | --- | --- |
| 8. | | 'Leave it to me to find out that,' said the curate; 'though there is no…' 00:05:04 |
| | | |
| --- | --- | --- |
| 9. | | All this and more the Judge uttered with such deep emotion… 00:04:11 |
| | | |
| --- | --- | --- |
| 10. | | CHAPTER 43 Wherein is Related the Pleasant Story of the Muleteer… 00:05:33 |
| | | |
| --- | --- | --- |
| 11. | | Meanwhile the time for my father's departure arrived… 00:05:49 |
| | | |
| --- | --- | --- |
| 12. | | Don Quixote had got so far in his pathetic speech when the landlady's… 00:04:18 |
| | | |
| --- | --- | --- |
| 13. | | He was, as has been said, standing on Rocinante, with his arm… 00:05:48 |
| | | |
| --- | --- | --- |
| 14. | | CHAPTER 44 In Which Are Continued the Unheard - of Adventures… 00:05:17 |
| | | |
| --- | --- | --- |
| 15. | | Dorothea at this instant came out of her room, followed by Dona… 00:05:38 |

Disc 13
| | | |
| --- | --- | --- |
| 1. | | Thus matters stood at the inn - gate, where there was a very lively… 00:03:38 |
| | | |
| --- | --- | --- |
| 2. | | Sancho, finding himself so unexpectedly assailed, and hearing… 00:03:27 |
| | | |
| --- | --- | --- |
| 3. | | CHAPTER 45 In Which the doubtful Question of Mambrino's Helmet… 00:04:09 |
| | | |
| --- | --- | --- |
| 4. | | To those who were in the secret of Don Quixote's humour all this… 00:05:06 |
| | | |
| --- | --- | --- |
| 5. | | All paused at his mighty voice, and he went on to say… 00:04:06 |
| | | |
| --- | --- | --- |
| 6. | | As soon as he had satisfied himself, folding up the parchment… 00:03:47 |
| | | |
| --- | --- | --- |
| 7. | | CHAPTER 46 Of the End of the Notable Adventure of the Officers… 00:05:42 |
| | | |
| --- | --- | --- |
| 8. | | 'On, then, in God's name,' said Don Quixote; 'for, when a lady…' 00:05:51 |
| | | |
| --- | --- | --- |
| 9. | | They were all eager to know what the affair of the blanket was… 00:06:51 |
| | | |
| --- | --- | --- |
| 10. | | CHAPTER 47 Of the Strange Manner in Which Don Quixote… 00:04:59 |
| | | |
| --- | --- | --- |
| 11. | | While this was passing between the ladies of the castle and Don… 00:05:41 |
| | | |
| --- | --- | --- |
| 12. | | When the canon heard both the prisoner and the man who was… 00:05:55 |
| | | |
| --- | --- | --- |
| 13. | | What mind, that is not wholly barbarous and uncultured, can find… 00:04:52 |
| | | |
| --- | --- | --- |
| 14. | | CHAPTER 48 In Which the Canon Pursues the Subject of the Books. 00:04:14 |
| | | |
| --- | --- | --- |
| 15. | | 'You have touched upon a subject, senor canon,' observed the curate… 00:05:09 |
| | | |
| --- | --- | --- |
| 16. | | Others write plays with such heedlessness that, after they have been… 00:05:14 |

Disc 14
| | | |
| --- | --- | --- |
| 1. | | 'May Our Lady be good to me!' said Sancho, lifting up his voice… 00:02:25 |
| | | |
| --- | --- | --- |
| 2. | | CHAPTER 49 Which Treats of the Shrewd Conversation… 00:04:55 |
| | | |
| --- | --- | --- |
| 3. | | The canon gazed at him, wondering at the extraordinary nature… 00:04:58 |
| | | |
| --- | --- | --- |
| 4. | | 'Well then,' returned Don Quixote, 'to my mind it is you who are…' 00:05:56 |
| | | |
| --- | --- | --- |
| 5. | | CHAPTER 50 Of the Shrewd Controversy Which Don Quixote… 00:05:56 |
| | | |
| --- | --- | --- |
| 6. | | 'But I will not expatiate any further upon this, as it may be gathered…' 00:04:24 |
| | | |
| --- | --- | --- |
| 7. | | By this time the canon's servants, who had gone to the inn to fetch… 00:04:25 |
| | | |
| --- | --- | --- |
| 8. | | CHAPTER 51 Which Deals With What the Goatherd Told Those Who… 00:05:14 |
| | | |
| --- | --- | --- |
| 9. | | This soldier, then, that I have described, this Vicente de la Rocca… 00:06:12 |
| | | |
| --- | --- | --- |
| 10. | | CHAPTER 52 Of the Quarrel That Don Quixote Had… 00:04:22 |
| | | |
| --- | --- | --- |
| 11. | | The fact was that the clouds had that year withheld their moisture… 00:06:18 |
| | | |
| --- | --- | --- |
| 12. | | At the cries and moans of Sancho, Don Quixote came to himself… 00:04:44 |
| | | |
| --- | --- | --- |
| 13. | | While this conversation passed between Sancho Panzo and his wife… 00:03:45 |
| | | |
| --- | --- | --- |
| 14. | | PANIAGUADO, ACADEMICIAN OF ARGAMASILLA… 00:04:13 |

Disc 15
| | | |
| --- | --- | --- |
| 1. | | VOLUME 2 PART 1 CHAPTER 1 Of the Interview the Curate… 00:04:58 |
| | | |
| --- | --- | --- |
| 2. | | 'I am not versed in stories,' said Don Quixote; 'but I know the oath…' 00:05:11 |
| | | |
| --- | --- | --- |
| 3. | | Approaching a cage in which there was a furious madman… 00:05:23 |
| | | |
| --- | --- | --- |
| 4. | | But now sloth triumphs over energy, indolence over exertion… 00:03:54 |
| | | |
| --- | --- | --- |
| 5. | | 'How big, in your worship's opinion, may the giant Morgante…' 00:04:21 |
| | | |
| --- | --- | --- |
| 6. | | CHAPTER 2 Which Treats of the Notable Altercation Which Sancho… 00:04:36 |
| | | |
| --- | --- | --- |
| 7. | | In short, Sancho, I would have thee tell me all that has come to thine… 00:04:45 |
| | | |
| --- | --- | --- |
| 8. | | CHAPTER 3 Of the Laughable Conversation that Passed Between… 00:05:13 |
| | | |
| --- | --- | --- |
| 9. | | 'The sage has left nothing in the ink - bottle,' replied Samson… 00:04:59 |
| | | |
| --- | --- | --- |
| 10. | | 'Then, I say,' said Don Quixote, 'the author of my history was no…' 00:06:05 |
| | | |
| --- | --- | --- |
| 11. | | CHAPTER 4 In Which Sancho Panza Gives a Satisfactory Reply… 00:05:11 |
| | | |
| --- | --- | --- |
| 12. | | Sancho had hardly uttered these words when the neighing of… 00:05:21 |
| | | |
| --- | --- | --- |
| 13. | | CHAPTER 5 Of the Shrewd and Droll Conversation that Passed… 00:05:41 |
| | | |
| --- | --- | --- |
| 14. | | 'Why, you idiot and wife for Barabbas,' said Sancho, 'what do…' 00:03:40 |
| | | |
| --- | --- | --- |
| 15. | | 'Do you know why, husband' replied Teresa; 'because…' 00:03:45 |

Disc 16
| | | |
| --- | --- | --- |
| 1. | | CHAPTER 6 Of What Took Place Between Don Quixote and his Niece… 00:04:29 |
| | | |
| --- | --- | --- |
| 2. | | 'By the God that gives me life,' said Don Quixote, 'if thou wert not…' 00:04:10 |
| | | |
| --- | --- | --- |
| 3. | | Of plebeian lineages I have nothing to say, save that they… 00:03:48 |
| | | |
| --- | --- | --- |
| 4. | | CHAPTER 7 Of What Passed Between Don Quixote and his Squire… 00:05:15 |
| | | |
| --- | --- | --- |
| 5. | | 'All that is very true,' said Don Quixote; 'but I cannot make out…' 00:04:49 |
| | | |
| --- | --- | --- |
| 6. | | At this, Don Quixote, turning to Sancho, said, 'Did I not tell thee…' 00:04:38 |
| | | |
| --- | --- | --- |
| 7. | | CHAPTER 8 Wherein is Related What Befell Don Quixote… 00:05:04 |
| | | |
| --- | --- | --- |
| 8. | | 'So I say too,' replied Sancho; 'and I suspect in that legend or history…' 00:05:22 |
| | | |
| --- | --- | --- |
| 9. | | 'All that your worship has said so far,' said Sancho… 00:05:20 |
| | | |
| --- | --- | --- |
| 10. | | CHAPTER 9 Wherein is Related What Will Be Seen There. 00:03:40 |
| | | |
| --- | --- | --- |
| 11. | | 'Thou wilt drive me to desperation, Sancho,' said Don Quixote. 00:04:18 |
| | | |
| --- | --- | --- |
| 12. | | CHAPTER 10 Wherein is Related the Crafty Device Sancho… 00:05:56 |
| | | |
| --- | --- | --- |
| 13. | | Such was the soliloquy Sancho held with himself, and all the… 00:04:27 |
| | | |
| --- | --- | --- |
| 14. | | By this time they had cleared the wood, and saw the three village… 00:04:41 |
| | | |
| --- | --- | --- |
| 15. | | The pack - saddle being secured, as Don Quixote was about to lift up… 00:04:34 |
| | | |
| --- | --- | --- |
| 16. | | CHAPTER 11 Of the Strange Adventure Which the Valiant Don… 00:04:15 |

Disc 17
| | | |
| --- | --- | --- |
| 1. | | Don Quixote was about to reply to Sancho Panza, but he was… 00:04:35 |
| | | |
| --- | --- | --- |
| 2. | | 'Then I will recover him,' said Don Quixote, 'even if he be shut up…' 00:04:13 |
| | | |
| --- | --- | --- |
| 3. | | CHAPTER 12 Of the Strange Adventure Which Befell… 00:06:13 |
| | | |
| --- | --- | --- |
| 4. | | Sancho at last fell asleep at the foot of a cork tree… 00:03:43 |
| | | |
| --- | --- | --- |
| 5. | | 'Not so,' said Don Quixote at this, 'for I am of La Mancha…' 00:03:40 |
| | | |
| --- | --- | --- |
| 6. | | CHAPTER 13 In Which is Continued the Adventure of the Knight… 00:04:54 |
| | | |
| --- | --- | --- |
| 7. | | 'I do disown them,' replied Sancho, 'and in this way…' 00:03:38 |
| | | |
| --- | --- | --- |
| 8. | | Sancho ate without requiring to be pressed, and in the dark bolted… 00:04:14 |
| | | |
| --- | --- | --- |
| 9. | | CHAPTER 14 Wherein is Continued the Adventure of the Knight… 00:04:36 |
| | | |
| --- | --- | --- |
| 10. | | 'Calm yourself, sir knight,' said Don Quixote, 'and give ear…' 00:05:18 |
| | | |
| --- | --- | --- |
| 11. | | 'I can remedy that entirely,' said he of the Grove, 'and in this way.' 00:04:57 |
| | | |
| --- | --- | --- |
| 12. | | With this, cutting short the colloquy, they mounted, and Don… 00:04:27 |
| | | |
| --- | --- | --- |
| 13. | | Sancho came up, and when he saw the countenance… 00:04:50 |
| | | |
| --- | --- | --- |
| 14. | | CHAPTER 15 Wherein it is Told and Known Who the Knight… 00:04:16 |
| | | |
| --- | --- | --- |
| 15. | | CHAPTER 16 Of What Befell Don Quixote with a Discreet Gentleman… 00:06:15 |
| | | |
| --- | --- | --- |
| 16. | | Don Quixote saw very plainly the attention with which the traveler… 00:05:49 |

Disc 18
| | | |
| --- | --- | --- |
| 1. | | Sancho listened with the greatest attention to the account… 00:04:48 |
| | | |
| --- | --- | --- |
| 2. | | And do not suppose, senor, that I apply the term vulgar… 00:04:36 |
| | | |
| --- | --- | --- |
| 3. | | CHAPTER 17 Wherein is Shown the Furthest… 00:05:44 |
| | | |
| --- | --- | --- |
| 4. | | 'So, so,' said the gentleman to himself at this; 'our worthy knight…' 00:05:41 |
| | | |
| --- | --- | --- |
| 5. | | It is to be observed, that on coming to this passage, the author… 00:05:57 |
| | | |
| --- | --- | --- |
| 6. | | 'Then,' said Don Quixote, 'if his Majesty should happen to ask…' 00:05:44 |
| | | |
| --- | --- | --- |
| 7. | | PART 2: CHAPTER 18 Of What Happened to Don Quixote… 00:05:40 |
| | | |
| --- | --- | --- |
| 8. | | 'So far,' said Don Lorenzo to himself, 'I should not take you…' 00:04:39 |
| | | |
| --- | --- | --- |
| 9. | | 'A discerning friend of mine,' said Don Quixote, 'was of opinion that…' 00:03:52 |
| | | |
| --- | --- | --- |
| 10. | | SONNET The lovely maid, she pierces now the wall; Heart pierced… 00:04:15 |
| | | |
| --- | --- | --- |
| 11. | | CHAPTER 19 In Which is Related the Adventure… 00:04:57 |
| | | |
| --- | --- | --- |
| 12. | | 'If all those who love one another were to marry,' said Don Quixote… 00:04:51 |
| | | |
| --- | --- | --- |
| 13. | | 'Look here, bachelor Corchuelo,' returned the student, 'you have…' 00:05:12 |
| | | |
| --- | --- | --- |
| 14. | | CHAPTER 20 Wherein an Account is Given of the Wedding of Camach. 00:04:46 |
| | | |
| --- | --- | --- |
| 15. | | Countless were the hares ready skinned and the plucked fowls… 00:04:46 |

Disc 19
| | | |
| --- | --- | --- |
| 1. | | Following these there came an artistic dance… 00:04:36 |
| | | |
| --- | --- | --- |
| 2. | | Don Quixote asked one of the nymphs who it was… 00:04:21 |
| | | |
| --- | --- | --- |
| 3. | | CHAPTER 21 In Which Camach's Wedding is Continued… 00:05:00 |
| | | |
| --- | --- | --- |
| 4. | | Basilio, however, reviving slightly, said in a weak voice… 00:04:42 |
| | | |
| --- | --- | --- |
| 5. | | 'For one so badly wounded,' observed Sancho at this point… 00:05:10 |
| | | |
| --- | --- | --- |
| 6. | | CHAPTER 22 Wherein is Related the Grand Adventure of the Cave… 00:05:31 |
| | | |
| --- | --- | --- |
| 7. | | The cousin arrived at last, leading an ass in foal, with a packsaddle… 00:04:38 |
| | | |
| --- | --- | --- |
| 8. | | On coming within sight of it the cousin, Sancho, and Don Quixote… 00:06:04 |
| | | |
| --- | --- | --- |
| 9. | | CHAPTER 23 Of the Wonderful Things the Incomparable… 00:05:07 |
| | | |
| --- | --- | --- |
| 10. | | His right hand (which seemed to me somewhat hairy and sinewy…) 00:05:11 |
| | | |
| --- | --- | --- |
| 11. | | 'And now there was heard a great outcry and lamentation…' 00:05:36 |
| | | |
| --- | --- | --- |
| 12. | | 'I believe,' replied Sancho, 'that this Merlin, or those enchanters…' 00:06:42 |
| | | |
| --- | --- | --- |
| 13. | | CHAPTER 24 Wherein are Related a Thousand Trifling matters… 00:06:41 |
| | | |
| --- | --- | --- |
| 14. | | Leaving the hermitage, they pushed on towards the inn, and a little… 00:06:15 |

Disc 20
| | | |
| --- | --- | --- |
| 1. | | CHAPTER 25 Wherein is Set Down the Braying Adventure… 00:05:54 |
| | | |
| --- | --- | --- |
| 2. | | So they returned disconsolate and hoarse to their village… 00:03:53 |
| | | |
| --- | --- | --- |
| 3. | | Master Pedro now came back, and in a cart followed the show… 00:04:36 |
| | | |
| --- | --- | --- |
| 4. | | 'Thou dost not understand me, Sancho,' said Don Quixote; 'I only…' 00:04:56 |
| | | |
| --- | --- | --- |
| 5. | | CHAPTER 26 Wherein is Continued the Droll Adventure… 00:04:27 |
| | | |
| --- | --- | --- |
| 6. | | If you, sir knight, to France are bound, Oh! For Gaiferos ask… 00:05:01 |
| | | |
| --- | --- | --- |
| 7. | | The complete destruction of the show being thus accomplished… 00:03:47 |
| | | |
| --- | --- | --- |
| 8. | | The landlord and Sancho consented, and then Master Pedro… 00:03:51 |
| | | |
| --- | --- | --- |
| 9. | | CHAPTER 27 Wherein it is Shown Who Master Pedro and his Ape… 00:05:17 |
| | | |
| --- | --- | --- |
| 10. | | From this device Don Quixote concluded that these people must be… 00:03:46 |
| | | |
| --- | --- | --- |
| 11. | | It would be a nice business indeed if all these illustrious cities… 00:04:45 |
| | | |
| --- | --- | --- |
| 12. | | CHAPTER 28 Of Matters that Benengeli Says He Who Reads Them… 00:04:49 |
| | | |
| --- | --- | --- |
| 13. | | 'When I worked for Tom Carrasco, the father of the bachelor…' 00:05:28 |
| | | |
| --- | --- | --- |
| 14. | | CHAPTER 29 Of the Famous Adventure of the Enchanted Bark. 00:03:22 |
| | | |
| --- | --- | --- |
| 15. | | 'Now they are tied,' said Sancho; 'what are we to do next' 00:04:20 |
| | | |
| --- | --- | --- |
| 16. | | They now came in sight of some large water mills that stood… 00:04:55 |
| | | |
| --- | --- | --- |
| 17. | | CHAPTER 30 Of Don Quixote's Adventure with a Fair Huntress. 00:04:45 |

Disc 21
| | | |
| --- | --- | --- |
| 1. | | Sancho returned to his master mightily pleased with this gratifying… 00:05:08 |
| | | |
| --- | --- | --- |
| 2. | | CHAPTER 31 Which Treats of Many and Great Matters. 00:04:55 |
| | | |
| --- | --- | --- |
| 3. | | While this conversation, amusing to all except Don Quixote… 00:05:36 |
| | | |
| --- | --- | --- |
| 4. | | 'It would be well,' said Don Quixote, 'if your highnesses would…' 00:05:55 |
| | | |
| --- | --- | --- |
| 5. | | CHAPTER 32 Of the Reply Don Quixote Gave his Censurer… 00:05:03 |
| | | |
| --- | --- | --- |
| 6. | | When he had done laughing, he said to Don Quixote… 00:05:17 |
| | | |
| --- | --- | --- |
| 7. | | At length the damsel with the jug returned and they made an end… 00:05:31 |
| | | |
| --- | --- | --- |
| 8. | | 'There is no denying it,' said the duchess; 'but still, if we are…' 00:05:14 |
| | | |
| --- | --- | --- |
| 9. | | And as a proof of all this, I must tell your highnesses… 00:04:28 |
| | | |
| --- | --- | --- |
| 10. | | The duchess was ready to die with laughter when she saw Sancho's… 00:03:55 |
| | | |
| --- | --- | --- |
| 11. | | PART 3: CHAPTER 33 Of the Delectable Discourse Which the Duchess… 00:05:38 |
| | | |
| --- | --- | --- |
| 12. | | 'To be sure they don't lie!' exclaimed Dona Rodriguez… 00:04:32 |
| | | |
| --- | --- | --- |
| 13. | | |