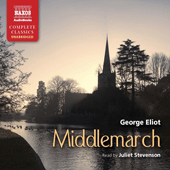 ELIOT, G.: Middlemarch (Unabridged)
Dorothea Brooke is an ardent idealist who represses her vivacity and intelligence for the cold, theological pedant Casaubon. One man understands her true nature: the artist Will Ladislaw. But how can love triumph against her sense of duty and Casaubon's mean spirit? Meanwhile, in the little world of Middlemarch, the broader world is mirrored: the world of politics, social change, reforms; betrayal, greed, blackmail, ambition and disappointment.
Dorothea Brooke is an outstanding heroine; Middlemarch is filled with characters that are vivid and true, comic and moving. It is one of the greatest novels in the English language.

Disc 1
| | | |
| --- | --- | --- |
| 1. | | Prelude 00:03:51 |
| | | |
| --- | --- | --- |
| 2. | | Book 1: Miss Brooke - Chapter 1 00:05:58 |
| | | |
| --- | --- | --- |
| 3. | | And how should Dorothea not marry 00:05:18 |
| | | |
| --- | --- | --- |
| 4. | | Early in the day Dorothea had returned… 00:05:08 |
| | | |
| --- | --- | --- |
| 5. | | Celia felt a little hurt. 00:06:05 |
| | | |
| --- | --- | --- |
| 6. | | Chapter 2 00:05:33 |
| | | |
| --- | --- | --- |
| 7. | | This was the first time that Mr. Casaubon… 00:05:39 |
| | | |
| --- | --- | --- |
| 8. | | Dorothea felt hurt. Mr. Casaubon would think… 00:04:38 |
| | | |
| --- | --- | --- |
| 9. | | 'Let me hope that you will rescind that resolution…' 00:04:01 |
| | | |
| --- | --- | --- |
| 10. | | Chapter 3 00:06:57 |
| | | |
| --- | --- | --- |
| 11. | | Certainly he seemed more and more bent on making… 00:04:45 |
| | | |
| --- | --- | --- |
| 12. | | It had now entered Dorothea's mind… 00:03:37 |
| | | |
| --- | --- | --- |
| 13. | | Dorothea checked herself suddenly… 00:06:18 |
| | | |
| --- | --- | --- |
| 14. | | Dorothea was in the best temper now… 00:07:22 |

Disc 2
| | | |
| --- | --- | --- |
| 1. | | Chapter 4 00:05:17 |
| | | |
| --- | --- | --- |
| 2. | | 'It is very painful,' said Dorothea… 00:05:32 |
| | | |
| --- | --- | --- |
| 3. | | She bethought herself now of the condemned… 00:05:02 |
| | | |
| --- | --- | --- |
| 4. | | 'Well, but Casaubon, now. There is no hurry…' 00:04:25 |
| | | |
| --- | --- | --- |
| 5. | | Chapter 5 00:05:41 |
| | | |
| --- | --- | --- |
| 6. | | Now she would be able to devote herself… 00:06:54 |
| | | |
| --- | --- | --- |
| 7. | | The next day, at luncheon, the butler… 00:05:39 |
| | | |
| --- | --- | --- |
| 8. | | Perhaps Celia had never turned so pale before. 00:06:37 |
| | | |
| --- | --- | --- |
| 9. | | Chapter 6 00:03:34 |
| | | |
| --- | --- | --- |
| 10. | | 'I see you have had our Lowick Cicero here,' she said… 00:04:28 |
| | | |
| --- | --- | --- |
| 11. | | Mr. Brooke again winced inwardly… 00:05:12 |
| | | |
| --- | --- | --- |
| 12. | | In less than an hour, Mrs. Cadwalladar… 00:05:21 |
| | | |
| --- | --- | --- |
| 13. | | 'Well, Humphrey doesn't know yet…' 00:04:43 |
| | | |
| --- | --- | --- |
| 14. | | With such a mind, active as phosphorus… 00:05:09 |

Disc 3
| | | |
| --- | --- | --- |
| 1. | | Chapter 7 00:05:24 |
| | | |
| --- | --- | --- |
| 2. | | Mr. Brooke had no doubt on that point… 00:05:39 |
| | | |
| --- | --- | --- |
| 3. | | Chapter 8 00:05:29 |
| | | |
| --- | --- | --- |
| 4. | | Sir James paused. He did not usually find it easy… 00:03:40 |
| | | |
| --- | --- | --- |
| 5. | | 'But, my dear Chettam, why should I…' 00:04:24 |
| | | |
| --- | --- | --- |
| 6. | | Chapter 9 00:06:35 |
| | | |
| --- | --- | --- |
| 7. | | Mr. Casaubon led the way thither. 00:07:46 |
| | | |
| --- | --- | --- |
| 8. | | Dorothea sank into silence on the way back… 00:07:11 |
| | | |
| --- | --- | --- |
| 9. | | When their backs were turned… 00:06:29 |
| | | |
| --- | --- | --- |
| 10. | | Chapter 10 00:05:53 |
| | | |
| --- | --- | --- |
| 11. | | Certainly this affair of his marriage… 00:05:31 |
| | | |
| --- | --- | --- |
| 12. | | The season was mild enough to encourage… 00:05:00 |
| | | |
| --- | --- | --- |
| 13. | | Already, as Miss Brooke passed out of the dining - room… 00:06:57 |

Disc 4
| | | |
| --- | --- | --- |
| 1. | | 'But we were talking of physic…' 00:06:54 |
| | | |
| --- | --- | --- |
| 2. | | Chapter 11 00:06:22 |
| | | |
| --- | --- | --- |
| 3. | | Lydgate could not be long in Middlemarch… 00:04:26 |
| | | |
| --- | --- | --- |
| 4. | | 'Mamma,' said Rosamond… 00:06:26 |
| | | |
| --- | --- | --- |
| 5. | | 'But how came you to stay out so late, my dear' 00:06:44 |
| | | |
| --- | --- | --- |
| 6. | | Chapter 12 00:04:36 |
| | | |
| --- | --- | --- |
| 7. | | Mrs. Waule had to defer her answer… 00:06:39 |
| | | |
| --- | --- | --- |
| 8. | | Before Mr. Featherstone's cough was quiet… 00:05:03 |
| | | |
| --- | --- | --- |
| 9. | | 'So, sir, you've been paying ten per cent…' 00:06:51 |
| | | |
| --- | --- | --- |
| 10. | | Fred, in spite of his irritation, had kindness enough… 00:06:40 |
| | | |
| --- | --- | --- |
| 11. | | 'But,' she added, dimpling, 'it is very different…' 00:06:11 |
| | | |
| --- | --- | --- |
| 12. | | Mr. Lydgate was rather late this morning… 00:06:17 |
| | | |
| --- | --- | --- |
| 13. | | Thus, in riding home… 00:05:37 |

Disc 5
| | | |
| --- | --- | --- |
| 1. | | Book 2: Old and Young - Chapter 13 00:04:40 |
| | | |
| --- | --- | --- |
| 2. | | One of Lydgate's gifts was a voice habitually deep… 00:05:09 |
| | | |
| --- | --- | --- |
| 3. | | 'What I desire,' Mr. Bulstrode continued… 00:05:00 |
| | | |
| --- | --- | --- |
| 4. | | To point out other people's errors was a duty… 00:05:48 |
| | | |
| --- | --- | --- |
| 5. | | Mr. Bulstrode paused a little before he answered. 00:04:54 |
| | | |
| --- | --- | --- |
| 6. | | Chapter 14 00:06:39 |
| | | |
| --- | --- | --- |
| 7. | | The deep - veined hands fingered many bank - notes… 00:05:48 |
| | | |
| --- | --- | --- |
| 8. | | Mary sat down again, and resumed her work. 00:05:57 |
| | | |
| --- | --- | --- |
| 9. | | Mary looked up with some roguishness at Fred… 00:05:37 |
| | | |
| --- | --- | --- |
| 10. | | Chapter 15 00:04:37 |
| | | |
| --- | --- | --- |
| 11. | | He had been left an orphan… 00:06:24 |
| | | |
| --- | --- | --- |
| 12. | | Lydgate did not mean to be one of those failures… 00:05:02 |
| | | |
| --- | --- | --- |
| 13. | | There was fascination in the hope… 00:05:48 |
| | | |
| --- | --- | --- |
| 14. | | He was certainly a happy fellow at this time… 00:04:26 |

Disc 6
| | | |
| --- | --- | --- |
| 1. | | As to women, he had once already been drawn… 00:05:54 |
| | | |
| --- | --- | --- |
| 2. | | To have approached Laure with any suit… 00:04:09 |
| | | |
| --- | --- | --- |
| 3. | | Chapter 16 00:05:50 |
| | | |
| --- | --- | --- |
| 4. | | 'Hang your reforms!' said Mr. Chichely. 00:06:56 |
| | | |
| --- | --- | --- |
| 5. | | 'You will let me hear some music tonight, I hope.' 00:07:30 |
| | | |
| --- | --- | --- |
| 6. | | Everything looked blooming and joyous… 00:07:36 |
| | | |
| --- | --- | --- |
| 7. | | As he threw down his book, stretched his legs… 00:06:46 |
| | | |
| --- | --- | --- |
| 8. | | Chapter 17 00:07:00 |
| | | |
| --- | --- | --- |
| 9. | | 'A mother is never partial,' said Mr. Farebrother… 00:07:20 |
| | | |
| --- | --- | --- |
| 10. | | 'Your scheme is a good deal more difficult…' 00:07:35 |
| | | |
| --- | --- | --- |
| 11. | | Chapter 18 00:06:36 |
| | | |
| --- | --- | --- |
| 12. | | And now, when the question of voting had come… 00:03:33 |

Disc 7
| | | |
| --- | --- | --- |
| 1. | | Lydgate was late in setting out… 00:06:02 |
| | | |
| --- | --- | --- |
| 2. | | Dr. Sprague said at once bluntly to the group… 00:05:46 |
| | | |
| --- | --- | --- |
| 3. | | Every one now sat down, Mr. Bulstrode presiding… 00:07:06 |
| | | |
| --- | --- | --- |
| 4. | | Chapter 19 00:04:58 |
| | | |
| --- | --- | --- |
| 5. | | 'He is not my uncle. I tell you…' 00:05:49 |
| | | |
| --- | --- | --- |
| 6. | | Chapter 20 00:05:38 |
| | | |
| --- | --- | --- |
| 7. | | Not that this inward amazement of Dorothea's… 00:05:39 |
| | | |
| --- | --- | --- |
| 8. | | In their conversation before marriage… 00:04:55 |
| | | |
| --- | --- | --- |
| 9. | | These characteristics, fixed and unchangeable… 00:06:32 |
| | | |
| --- | --- | --- |
| 10. | | The excessive feeling manifested… 00:04:21 |
| | | |
| --- | --- | --- |
| 11. | | Dorothea rose to leave the table… 00:03:59 |
| | | |
| --- | --- | --- |
| 12. | | Chapter 21 00:07:14 |
| | | |
| --- | --- | --- |
| 13. | | 'Oh, there is a great deal in the feeling for art…' 00:06:01 |

Disc 8
| | | |
| --- | --- | --- |
| 1. | | There was a new light, but still a mysterious light… 00:07:37 |
| | | |
| --- | --- | --- |
| 2. | | Chapter 22 00:05:58 |
| | | |
| --- | --- | --- |
| 3. | | They found Naumann painting industriously… 00:06:33 |
| | | |
| --- | --- | --- |
| 4. | | Naumann was all apologies in asking her to stand… 00:05:52 |
| | | |
| --- | --- | --- |
| 5. | | Dorothea, who had not been made aware… 00:05:39 |
| | | |
| --- | --- | --- |
| 6. | | Will again feared that he had gone too far… 00:06:08 |
| | | |
| --- | --- | --- |
| 7. | | Will was not quite contented… 00:06:39 |
| | | |
| --- | --- | --- |
| 8. | | Book 3: Waiting for Death - Chapter 23 00:06:05 |
| | | |
| --- | --- | --- |
| 9. | | The Garths were very fond of Fred… 00:06:24 |
| | | |
| --- | --- | --- |
| 10. | | Since it occurred, a change had come over Fred's sky… 00:06:22 |
| | | |
| --- | --- | --- |
| 11. | | Most of those who saw Fred riding out… 00:04:59 |
| | | |
| --- | --- | --- |
| 12. | | Fred was subtle, and did not tell his friends… 00:06:35 |
| | | |
| --- | --- | --- |
| 13. | | Chapter 24 00:03:11 |

Disc 9
| | | |
| --- | --- | --- |
| 1. | | Mr. Garth was not at the office… 00:06:03 |
| | | |
| --- | --- | --- |
| 2. | | 'Now let us go through that once more' said Mrs. Garth… 00:07:16 |
| | | |
| --- | --- | --- |
| 3. | | 'Are Letty and Ben your only pupils now, Mrs. Garth' 00:07:05 |
| | | |
| --- | --- | --- |
| 4. | | Fred turned round and hurried out of the room… 00:06:37 |
| | | |
| --- | --- | --- |
| 5. | | Chapter 25 00:05:40 |
| | | |
| --- | --- | --- |
| 6. | | 'Any man may be unfortunate, Mary…' 00:05:53 |
| | | |
| --- | --- | --- |
| 7. | | She took a candle into another large parlour… 00:06:17 |
| | | |
| --- | --- | --- |
| 8. | | Chapter 26 00:05:53 |
| | | |
| --- | --- | --- |
| 9. | | When Mr. Vincy came home he was very angry… 00:05:52 |
| | | |
| --- | --- | --- |
| 10. | | Chapter 27 00:06:08 |
| | | |
| --- | --- | --- |
| 11. | | She never left Fred's side… 00:06:30 |
| | | |
| --- | --- | --- |
| 12. | | Lydgate found it more and more agreeable… 00:04:34 |
| | | |
| --- | --- | --- |
| 13. | | Mr. Ned smiled nervously… 00:05:38 |

Disc 10
| | | |
| --- | --- | --- |
| 1. | | Chapter 28 00:05:05 |
| | | |
| --- | --- | --- |
| 2. | | In the first minutes when Dorothea looked out… 00:04:24 |
| | | |
| --- | --- | --- |
| 3. | | Dorothea's eyes also were turned up to her husband's face… 00:03:50 |
| | | |
| --- | --- | --- |
| 4. | | Chapter 29 00:07:10 |
| | | |
| --- | --- | --- |
| 5. | | To this mental estate mapped out… 00:06:08 |
| | | |
| --- | --- | --- |
| 6. | | 'We will, if you please, say no more on this subject…' 00:06:59 |
| | | |
| --- | --- | --- |
| 7. | | Chapter 30 00:05:25 |
| | | |
| --- | --- | --- |
| 8. | | 'You will not mind this sombre light,' said Dorothea… 00:05:55 |
| | | |
| --- | --- | --- |
| 9. | | When he was gone, Dorothea's tears gushed forth… 00:05:55 |
| | | |
| --- | --- | --- |
| 10. | | Chapter 31 00:06:03 |
| | | |
| --- | --- | --- |
| 11. | | 'You don't mean that there is anything between…' 00:04:50 |
| | | |
| --- | --- | --- |
| 12. | | 'You would not give your heart to a man…' 00:04:47 |
| | | |
| --- | --- | --- |
| 13. | | Solomon's Proverbs, I think, have omitted… 00:04:33 |
| | | |
| --- | --- | --- |
| 14. | | Miss Vincy was alone, and blushed so deeply… 00:05:20 |

Disc 11
| | | |
| --- | --- | --- |
| 1. | | Chapter 32 00:05:00 |
| | | |
| --- | --- | --- |
| 2. | | But some of the visitors alighted… 00:05:26 |
| | | |
| --- | --- | --- |
| 3. | | Old Featherstone no sooner caught sight of these… 00:05:02 |
| | | |
| --- | --- | --- |
| 4. | | Their exit was hastened by their seeing… 00:05:11 |
| | | |
| --- | --- | --- |
| 5. | | 'I don't mind if I have a slice of that ham…' 00:04:38 |
| | | |
| --- | --- | --- |
| 6. | | 'I shall take a mere mouthful of ham…' 00:05:01 |
| | | |
| --- | --- | --- |
| 7. | | Chapter 33 00:04:09 |
| | | |
| --- | --- | --- |
| 8. | | To - night he had not snapped… 00:04:53 |
| | | |
| --- | --- | --- |
| 9. | | He let his hand fall, and for the first time… 00:06:16 |
| | | |
| --- | --- | --- |
| 10. | | Book 4: Three Love Problems - Chapter 34 00:04:12 |
| | | |
| --- | --- | --- |
| 11. | | However, the three mourning - coaches… 00:05:01 |
| | | |
| --- | --- | --- |
| 12. | | 'I shall not look any more,' said Celia… 00:05:03 |
| | | |
| --- | --- | --- |
| 13. | | Dorothea felt a shock of alarm… 00:05:41 |
| | | |
| --- | --- | --- |
| 14. | | Chapter 35 00:03:57 |
| | | |
| --- | --- | --- |
| 15. | | But in the morning all the ordinary currents… 00:06:18 |

Disc 12
| | | |
| --- | --- | --- |
| 1. | | But the entrance of the lawyer and the two brothers… 00:04:55 |
| | | |
| --- | --- | --- |
| 2. | | The small bequests came first… 00:04:34 |
| | | |
| --- | --- | --- |
| 3. | | Mr. Vincy was the first to speak… 00:05:23 |
| | | |
| --- | --- | --- |
| 4. | | Mr. Joshua Rigg, in fact, appeared to trouble… 00:05:05 |
| | | |
| --- | --- | --- |
| 5. | | Chapter 36 00:06:01 |
| | | |
| --- | --- | --- |
| 6. | | This was a not infrequent procedure with Mr. Vincy… 00:07:00 |
| | | |
| --- | --- | --- |
| 7. | | Aunt Bulstrode was again stirred to anxiety… 00:05:57 |
| | | |
| --- | --- | --- |
| 8. | | Any inward debate Lydgate had as to the consequences… 00:05:44 |
| | | |
| --- | --- | --- |
| 9. | | An unmistakable delight shone forth… 00:05:23 |
| | | |
| --- | --- | --- |
| 10. | | 'It must be lovely,' said Mrs. Vincy… 00:05:39 |
| | | |
| --- | --- | --- |
| 11. | | Rosamond, however, was on her side… 00:03:39 |
| | | |
| --- | --- | --- |
| 12. | | Chapter 37 00:05:12 |
| | | |
| --- | --- | --- |
| 13. | | Mr. Hawley's disgust at the notion of the 'Pioneer'… 00:05:30 |
| | | |
| --- | --- | --- |
| 14. | | Invitations of the formal kind had been wanting… 00:03:55 |
| | | |
| --- | --- | --- |
| 15. | | In another minute he was in the library… 00:04:43 |

Disc 13
| | | |
| --- | --- | --- |
| 1. | | 'But you may easily carry the help too far,' he said… 00:06:04 |
| | | |
| --- | --- | --- |
| 2. | | 'No,' answered Dorothea; 'Mr. Casaubon…' 00:06:22 |
| | | |
| --- | --- | --- |
| 3. | | So they only said 'Goodbye,' and Will quitted the house… 00:06:32 |
| | | |
| --- | --- | --- |
| 4. | | Meanwhile Dorothea's mind was innocently at work… 00:05:26 |
| | | |
| --- | --- | --- |
| 5. | | The thoughts which had gathered vividness… 00:06:12 |
| | | |
| --- | --- | --- |
| 6. | | The next day, Mr. Casaubon received the following… 00:05:32 |
| | | |
| --- | --- | --- |
| 7. | | Chapter 38 00:06:52 |
| | | |
| --- | --- | --- |
| 8. | | 'There is one good chance…' 00:07:14 |
| | | |
| --- | --- | --- |
| 9. | | 'Come, that's rather good, you know', said Mr. Brooke… 00:07:07 |
| | | |
| --- | --- | --- |
| 10. | | Chapter 39 00:05:17 |
| | | |
| --- | --- | --- |
| 11. | | 'Chettam is a little hasty, my dear,' said Mr. Brooke… 00:06:33 |
| | | |
| --- | --- | --- |
| 12. | | Dorothea felt wretched. She thought her husband… 00:07:12 |

Disc 14
| | | |
| --- | --- | --- |
| 1. | | It is true that an observer, under that softening influence… 00:05:46 |
| | | |
| --- | --- | --- |
| 2. | | Overworked Mrs. Dagley - a thin, worn woman… 00:06:09 |
| | | |
| --- | --- | --- |
| 3. | | Chapter 40 00:06:54 |
| | | |
| --- | --- | --- |
| 4. | | She went and stood behind him… 00:06:56 |
| | | |
| --- | --- | --- |
| 5. | | 'We haven't seen the lad for months,' said Caleb… 00:06:31 |
| | | |
| --- | --- | --- |
| 6. | | 'Now Mary's gone out, I must tell you a thing…' 00:06:58 |
| | | |
| --- | --- | --- |
| 7. | | As the Vicar walked to Lowick… 00:07:45 |
| | | |
| --- | --- | --- |
| 8. | | Chapter 41 00:07:24 |
| | | |
| --- | --- | --- |
| 9. | | 'Have you done' said Mr. Rigg, quietly… 00:06:11 |
| | | |
| --- | --- | --- |
| 10. | | Chapter 42 00:06:03 |
| | | |
| --- | --- | --- |
| 11. | | This sore susceptibility in relation to Dorothea… 00:06:50 |
| | | |
| --- | --- | --- |
| 12. | | The arrangements made by Mr. Casaubon… 00:04:27 |

Disc 15
| | | |
| --- | --- | --- |
| 1. | | 'You refer to the possible hindrances…' 00:06:53 |
| | | |
| --- | --- | --- |
| 2. | | There was something horrible to Dorothea… 00:07:43 |
| | | |
| --- | --- | --- |
| 3. | | Book 5: The Dead Hand - Chapter 43 00:05:22 |
| | | |
| --- | --- | --- |
| 4. | | 'Thank you very much for allowing me to interrupt…' 00:06:19 |
| | | |
| --- | --- | --- |
| 5. | | Will re - entered the drawing room… 00:06:26 |
| | | |
| --- | --- | --- |
| 6. | | Chapter 44 00:07:57 |
| | | |
| --- | --- | --- |
| 7. | | Chapter 45 00:06:20 |
| | | |
| --- | --- | --- |
| 8. | | One of the facts quickly rumoured was that Lydgate… 00:06:09 |
| | | |
| --- | --- | --- |
| 9. | | Mrs. Mawmsey had had a great deal of sitting… 00:06:13 |
| | | |
| --- | --- | --- |
| 10. | | Mr. Toller's prediction was partly verified. 00:06:27 |
| | | |
| --- | --- | --- |
| 11. | | How could Lydgate help himself 00:06:57 |
| | | |
| --- | --- | --- |
| 12. | | There was an immediate refusal on the part… 00:04:35 |

Disc 16
| | | |
| --- | --- | --- |
| 1. | | Affairs were in this stage… 00:04:35 |
| | | |
| --- | --- | --- |
| 2. | | Presently Rosamond left the piano… 00:05:00 |
| | | |
| --- | --- | --- |
| 3. | | Chapter 46 00:06:02 |
| | | |
| --- | --- | --- |
| 4. | | Ladislaw had now accepted his bit of work… 00:06:05 |
| | | |
| --- | --- | --- |
| 5. | | But Will's articles and speeches… 00:05:47 |
| | | |
| --- | --- | --- |
| 6. | | 'That's very fine, my dear fellow. But your cure…' 00:05:55 |
| | | |
| --- | --- | --- |
| 7. | | Chapter 47 00:07:30 |
| | | |
| --- | --- | --- |
| 8. | | Having silenced objection by force of unreason… 00:07:17 |
| | | |
| --- | --- | --- |
| 9. | | Chapter 48 00:05:04 |
| | | |
| --- | --- | --- |
| 10. | | In the library Dorothea observed… 00:04:56 |
| | | |
| --- | --- | --- |
| 11. | | 'And now I think that I can take some repose,' said Mr. Casaubon… 00:05:21 |
| | | |
| --- | --- | --- |
| 12. | | And here Dorothea's pity turned from her own future… 00:04:35 |
| | | |
| --- | --- | --- |
| 13. | | Dorothea, feeling very weary… 00:05:13 |

Disc 17
| | | |
| --- | --- | --- |
| 1. | | Chapter 49 00:05:07 |
| | | |
| --- | --- | --- |
| 2. | | 'My dear sir,' said Sir James, impatiently… 00:04:56 |
| | | |
| --- | --- | --- |
| 3. | | Chapter 50 00:06:49 |
| | | |
| --- | --- | --- |
| 4. | | 'I can see what you are thinking of…' 00:07:04 |
| | | |
| --- | --- | --- |
| 5. | | His attendance on Dorothea while her brain was excited… 00:06:19 |
| | | |
| --- | --- | --- |
| 6. | | Dorothea tried now to turn her thoughts… 00:06:57 |
| | | |
| --- | --- | --- |
| 7. | | Chapter 51 00:06:21 |
| | | |
| --- | --- | --- |
| 8. | | Mr. Brooke always ended by agreeing… 00:06:19 |
| | | |
| --- | --- | --- |
| 9. | | But whether he should succeed in that mode… 00:06:38 |
| | | |
| --- | --- | --- |
| 10. | | 'I am a close neighbour of yours, my good friends…' 00:06:26 |
| | | |
| --- | --- | --- |
| 11. | | Mr. Brooke re - entered the committee - room… 00:06:21 |
| | | |
| --- | --- | --- |
| 12. | | Chapter 52 00:05:34 |

Disc 18
| | | |
| --- | --- | --- |
| 1. | | Hardly a week later, Duty presented itself… 00:06:16 |
| | | |
| --- | --- | --- |
| 2. | | There was a moment's silence before Mr. Farebrother… 00:05:43 |
| | | |
| --- | --- | --- |
| 3. | | Mary looked so much moved, that he said after a moment… 00:06:28 |
| | | |
| --- | --- | --- |
| 4. | | Chapter 53 00:07:19 |
| | | |
| --- | --- | --- |
| 5. | | Mr. Bulstrode was conscious of being in a good spiritural frame… 00:06:46 |
| | | |
| --- | --- | --- |
| 6. | | Raffles opened wide eyes, and gave a long whistle… 00:06:48 |
| | | |
| --- | --- | --- |
| 7. | | It was not long before they were seated together… 00:07:14 |
| | | |
| --- | --- | --- |
| 8. | | Mr. Raffles ended with a jocose snuffle… 00:07:04 |
| | | |
| --- | --- | --- |
| 9. | | Book 6: The Widow and the Wife - Chapter 54 00:07:24 |
| | | |
| --- | --- | --- |
| 10. | | Mrs. Cadwallader said no more on that point… 00:06:34 |
| | | |
| --- | --- | --- |
| 11. | | Mrs. Farebrother recurred to her knitting… 00:07:05 |

Disc 19
| | | |
| --- | --- | --- |
| 1. | | She was not aware how long it was… 00:04:43 |
| | | |
| --- | --- | --- |
| 2. | | Will spoke at random: he was merely venting his petulance… 00:04:46 |
| | | |
| --- | --- | --- |
| 3. | | Chapter 55 00:03:18 |
| | | |
| --- | --- | --- |
| 4. | | One day that she went to Freshitt to fulfil her promise… 00:04:22 |
| | | |
| --- | --- | --- |
| 5. | | 'My dear Mrs. Casaubon,' said Lady Chettam… 00:03:59 |
| | | |
| --- | --- | --- |
| 6. | | Chapter 56 00:07:10 |
| | | |
| --- | --- | --- |
| 7. | | In the absence of any precise idea… 00:06:03 |
| | | |
| --- | --- | --- |
| 8. | | The scent would have been sweeter to Fred Vincy… 00:08:03 |
| | | |
| --- | --- | --- |
| 9. | | Caleb paused here, and perhaps the greatest orator… 00:07:07 |
| | | |
| --- | --- | --- |
| 10. | | The expression of Caleb's face… 00:07:54 |
| | | |
| --- | --- | --- |
| 11. | | Mrs. Garth was not given to tears… 00:06:38 |
| | | |
| --- | --- | --- |
| 12. | | Fred entered on the subject directly… 00:06:14 |
| | | |
| --- | --- | --- |
| 13. | | Chapter 57 00:04:05 |
| | | |
| --- | --- | --- |
| 14. | | 'Let us all go and see Mary,' said Christy… 00:04:09 |

Disc 20
| | | |
| --- | --- | --- |
| 1. | | The power of admonition which had begun to stir… 00:05:24 |
| | | |
| --- | --- | --- |
| 2. | | No doubt it was having a strong effect on him… 00:05:29 |
| | | |
| --- | --- | --- |
| 3. | | Mary at once saw the Vicar's intention. 00:05:38 |
| | | |
| --- | --- | --- |
| 4. | | Chapter 58 00:07:26 |
| | | |
| --- | --- | --- |
| 5. | | It might have been supposed that Rosamond… 00:07:48 |
| | | |
| --- | --- | --- |
| 6. | | Rosamond was soon looking lovelier than ever… 00:07:23 |
| | | |
| --- | --- | --- |
| 7. | | Its novelty made it the more irritating. 00:03:48 |
| | | |
| --- | --- | --- |
| 8. | | However, it had seemed a question of no moment… 00:04:15 |
| | | |
| --- | --- | --- |
| 9. | | Rosamond did not look at her husband… 00:06:03 |
| | | |
| --- | --- | --- |
| 10. | | 'What can - I - do, Tertius' said Rosamond… 00:05:56 |
| | | |
| --- | --- | --- |
| 11. | | 'Are we to go without spoons and forks then' 00:05:39 |
| | | |
| --- | --- | --- |
| 12. | | Chapter 59 00:07:42 |
| | | |
| --- | --- | --- |
| 13. | | Chapter 60 00:05:22 |

Disc 21
| | | |
| --- | --- | --- |
| 1. | | Will was in a defiant mood… 00:05:36 |
| | | |
| --- | --- | --- |
| 2. | | Meanwhile Joseph had brought a trayful… 00:04:40 |
| | | |
| --- | --- | --- |
| 3. | | Next came two Dutch prints… 00:04:47 |
| | | |
| --- | --- | --- |
| 4. | | The bidding was brisk, and Will continued… 00:03:27 |
| | | |
| --- | --- | --- |
| 5. | | Later in the evening, however, Raffles overtook… 00:04:13 |
| | | |
| --- | --- | --- |
| 6. | | Chapter 61 00:06:23 |
| | | |
| --- | --- | --- |
| 7. | | But in truth Mr. Bulstrode was very far from a state… 00:06:10 |
| | | |
| --- | --- | --- |
| 8. | | He remembered his first moments of shrinking. 00:07:09 |
| | | |
| --- | --- | --- |
| 9. | | Meanwhile, in his conversation with Raffles… 00:06:21 |
| | | |
| --- | --- | --- |
| 10. | | Will felt something like an electric shock. 00:05:53 |
| | | |
| --- | --- | --- |
| 11. | | 'I will not deny that you conjecture rightly,' he answered… 00:05:32 |
| | | |
| --- | --- | --- |
| 12. | | Chapter 62 00:05:32 |
| | | |
| --- | --- | --- |
| 13. | | Dorothea was detained on the good pretext… 00:04:39 |
| | | |
| --- | --- | --- |
| 14. | | 'He said he would never do anything…' 00:06:28 |

Disc 22
| | | |
| --- | --- | --- |
| 1. | | When Will saw her there, he gave a start… 00:06:25 |
| | | |
| --- | --- | --- |
| 2. | | She put out her hand, and Will took it for an instant… 00:06:15 |
| | | |
| --- | --- | --- |
| 3. | | Book 7: Two Temptations - Chapter 63 00:05:49 |
| | | |
| --- | --- | --- |
| 4. | | The opportunity came at Mr. Vincy's… 00:06:08 |
| | | |
| --- | --- | --- |
| 5. | | 'You will never care any more about my one - eyed giant…' 00:07:03 |
| | | |
| --- | --- | --- |
| 6. | | Chapter 64 00:07:41 |
| | | |
| --- | --- | --- |
| 7. | | Lydgate's anger rose: he was prepared… 00:05:23 |
| | | |
| --- | --- | --- |
| 8. | | He went out of the house, but as his blood cooled… 00:06:32 |
| | | |
| --- | --- | --- |
| 9. | | She returned home by Mr. Borthrop Trumbull's office… 00:07:37 |
| | | |
| --- | --- | --- |
| 10. | | But the next day she carried out her plan… 00:07:58 |
| | | |
| --- | --- | --- |
| 11. | | Lydgate sat paralyzed by opposing impulses… 00:06:44 |

Disc 23
| | | |
| --- | --- | --- |
| 1. | | Chapter 65 00:05:57 |
| | | |
| --- | --- | --- |
| 2. | | It is a terrible moment in young lives… 00:07:35 |
| | | |
| --- | --- | --- |
| 3. | | Chapter 66 00:05:24 |
| | | |
| --- | --- | --- |
| 4. | | Mr. Bambridge was not yet come… 00:06:52 |
| | | |
| --- | --- | --- |
| 5. | | Lydgate, by betting on his own strokes, had won… 00:05:58 |
| | | |
| --- | --- | --- |
| 6. | | There was a pause. Mr. Farebrother seemed to wait… 00:05:42 |
| | | |
| --- | --- | --- |
| 7. | | Chapter 67 00:07:17 |
| | | |
| --- | --- | --- |
| 8. | | But in the midst of his hesitation, opportunity came… 00:06:54 |
| | | |
| --- | --- | --- |
| 9. | | Bulstrode showed a rather exasperating ability… 00:06:10 |
| | | |
| --- | --- | --- |
| 10. | | Chapter 68 00:05:13 |
| | | |
| --- | --- | --- |
| 11. | | Bulstrode carried his candle to the bedside… 00:04:28 |
| | | |
| --- | --- | --- |
| 12. | | Bulstrode was only the more conscious… 00:05:16 |
| | | |
| --- | --- | --- |
| 13. | | 'The lad would be as happy as two,' he said… 00:04:50 |

Disc 24
| | | |
| --- | --- | --- |
| 1. | | Chapter 69 00:06:48 |
| | | |
| --- | --- | --- |
| 2. | | 'You are a conscientious man, Mr. Garth…' 00:07:15 |
| | | |
| --- | --- | --- |
| 3. | | Yet when he arrived at Stone Court… 00:06:24 |
| | | |
| --- | --- | --- |
| 4. | | After waiting for the note to be carried to Mrs. Bulstrode… 00:06:51 |
| | | |
| --- | --- | --- |
| 5. | | Chapter 70 00:07:03 |
| | | |
| --- | --- | --- |
| 6. | | Strange, piteous conflict in the soul… 00:06:54 |
| | | |
| --- | --- | --- |
| 7. | | The banker felt that he had done something… 00:06:34 |
| | | |
| --- | --- | --- |
| 8. | | To her surprise, Mr. Bulstrode did not answer. 00:07:20 |
| | | |
| --- | --- | --- |
| 9. | | On returning home Lydgate had a visit… 00:06:34 |
| | | |
| --- | --- | --- |
| 10. | | Chapter 71 00:05:37 |
| | | |
| --- | --- | --- |
| 11. | | 'What's the man's name Where can he be found' 00:05:12 |
| | | |
| --- | --- | --- |
| 12. | | 'Well,' he said, with a deep breath… 00:04:51 |

Disc 25
| | | |
| --- | --- | --- |
| 1. | | But this vague conviction of indeterminable guilt… 00:07:37 |
| | | |
| --- | --- | --- |
| 2. | | Mrs. Dollop looked round with the air of a landlady… 00:06:34 |
| | | |
| --- | --- | --- |
| 3. | | After the business had been fully opened… 00:07:29 |
| | | |
| --- | --- | --- |
| 4. | | After the word chicanery there was a growing noise… 00:07:06 |
| | | |
| --- | --- | --- |
| 5. | | Book 8: Sunset and Sunrise - Chapter 72 00:05:03 |
| | | |
| --- | --- | --- |
| 6. | | 'Oh, how cruel!' said Dorothea, clasping her hands. 00:05:19 |
| | | |
| --- | --- | --- |
| 7. | | Chapter 73 00:05:15 |
| | | |
| --- | --- | --- |
| 8. | | But then came the question whether he should have acted… 00:05:39 |
| | | |
| --- | --- | --- |
| 9. | | Chapter 74 00:04:46 |
| | | |
| --- | --- | --- |
| 10. | | 'Mr. Thesiger has always countenanced him…' 00:06:04 |
| | | |
| --- | --- | --- |
| 11. | | Mrs. Plymdale was in a situation… 00:04:48 |
| | | |
| --- | --- | --- |
| 12. | | Hence Mrs. Bulstrode was shown into the drawing - room… 00:06:38 |
| | | |
| --- | --- | --- |
| 13. | | He told her everything, very inartificially… 00:06:51 |

Disc 26
| | | |
| --- | --- | --- |
| 1. | | Chapter 75 00:07:30 |
| | | |
| --- | --- | --- |
| 2. | | 'This is Chichely's scratch. What is he writing to you about' 00:06:39 |
| | |
| --- | --- |
| 3. | |