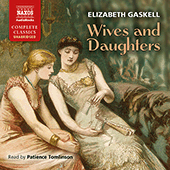 GASKELL, E.: Wives and Daughters (Unabridged)
When her father remarries, the honest, innocent Molly Gibson suddenly finds herself with a new stepsister, Cynthia, who is beautiful, worldly and impetuous. This would be more than enough to deal with, but the new wife is the deeply snobbish (and darkly secretive) Hyacinth.
Thwarted love, scheming ambition and small-town gossip underlie the warmth, irony and brilliant social observation which link the relationships and the inevitable conflicts as profound change comes to rural England.
The most mature and rewarding of her novels, Wives and Daughters places Elizabeth Gaskell in the first rank of English authors.

Disc 1
| | | |
| --- | --- | --- |
| 1. | | CHAPTER 1: THE DAWN OF A GALA DAY 00:05:35 |
| | | |
| --- | --- | --- |
| 2. | | This was no unusual instance… 00:05:40 |
| | | |
| --- | --- | --- |
| 3. | | For the first time in her life, Molly Gibson was to be included… 00:05:39 |
| | | |
| --- | --- | --- |
| 4. | | 'We shall go back to town on Friday the 18th,' said Lady Agnes… 00:05:39 |
| | | |
| --- | --- | --- |
| 5. | | CHAPTER 2: A NOVICE AMONGST THE GREAT FOLK 00:04:47 |
| | | |
| --- | --- | --- |
| 6. | | She turned hastily round not to lose another word… 00:04:24 |
| | | |
| --- | --- | --- |
| 7. | | There was some bread, and some cold chicken, and some jelly… 00:05:34 |
| | | |
| --- | --- | --- |
| 8. | | The housemaids came in to arrange the room. 00:05:42 |
| | | |
| --- | --- | --- |
| 9. | | Molly was an obliging girl, and fond of children… 00:05:00 |
| | | |
| --- | --- | --- |
| 10. | | There was an implied blame running through this speech... 00:03:36 |
| | | |
| --- | --- | --- |
| 11. | | 'You must go and wish Lady Cumnor good - night, you know…' 00:04:18 |
| | | |
| --- | --- | --- |
| 12. | | Once out into the park Molly struck her pony, and urged him on… 00:04:51 |
| | | |
| --- | --- | --- |
| 13. | | CHAPTER 3: MOLLY GIBSON'S CHILDHOOD 00:04:23 |
| | | |
| --- | --- | --- |
| 14. | | The popularity of this world is as transient as its glory… 00:03:47 |
| | | |
| --- | --- | --- |
| 15. | | Several years before the opening of this story… 00:04:54 |
| | | |
| --- | --- | --- |
| 16. | | Miss Eyre listened in silence, perplexed… 00:05:13 |

Disc 2
| | | |
| --- | --- | --- |
| 1. | | CHAPTER 4: MR. GIBSON'S NEIGHBOURS 00:04:48 |
| | | |
| --- | --- | --- |
| 2. | | But somehow things had changed… 00:05:02 |
| | | |
| --- | --- | --- |
| 3. | | 'Use my purse as freely as if it was your own…' 00:05:19 |
| | | |
| --- | --- | --- |
| 4. | | He had married a delicate fine London lady… 00:05:04 |
| | | |
| --- | --- | --- |
| 5. | | She had not been able for many years to walk beyond her garden… 00:04:50 |
| | | |
| --- | --- | --- |
| 6. | | Major Coxe was at some unpronounceable station… 00:04:45 |
| | | |
| --- | --- | --- |
| 7. | | CHAPTER 5: CALF - LOVE 00:04:33 |
| | | |
| --- | --- | --- |
| 8. | | After a little more consideration in the same strain… 00:04:37 |
| | | |
| --- | --- | --- |
| 9. | | 'To be sure. Come in, Mr. Coxe. I was rather wanting to talk…' 00:05:19 |
| | | |
| --- | --- | --- |
| 10. | | 'Would it tend to cure your – well! passion, we'll say…' 00:05:07 |
| | | |
| --- | --- | --- |
| 11. | | 'I only wish Osborne and Roger…' 00:05:25 |
| | | |
| --- | --- | --- |
| 12. | | 'Don't you like to go Would you rather not' 00:05:54 |
| | | |
| --- | --- | --- |
| 13. | | CHAPTER 6: A VISIT TO THE HAMLEYS 00:04:53 |
| | | |
| --- | --- | --- |
| 14. | | She rose languidly, and wrapping her light shawl round her… 00:03:43 |
| | | |
| --- | --- | --- |
| 15. | | So she began. Molly was not so much absorbed in listening… 00:04:14 |
| | | |
| --- | --- | --- |
| 16. | | Molly tried to find out in the picture the characteristics… 00:04:29 |

Disc 3
| | | |
| --- | --- | --- |
| 1. | | The squire had hitherto been too busy to talk… 00:05:12 |
| | | |
| --- | --- | --- |
| 2. | | Molly looked out of her chamber window… 00:05:23 |
| | | |
| --- | --- | --- |
| 3. | | She dropped her voice very soft and low… 00:03:34 |
| | | |
| --- | --- | --- |
| 4. | | 'Mr. Osborne Hamley is very clever, is he not' Molly asked… 00:03:29 |
| | | |
| --- | --- | --- |
| 5. | | CHAPTER 7: FORESHADOWS OF LOVE PERILS 00:05:23 |
| | | |
| --- | --- | --- |
| 6. | | 'I guess your request. I make it before you do…' 00:03:57 |
| | | |
| --- | --- | --- |
| 7. | | 'She's a good girl,' said her father, when she had danced out… 00:04:23 |
| | | |
| --- | --- | --- |
| 8. | | All that afternoon the squire tried to steer clear of Molly… 00:04:00 |
| | | |
| --- | --- | --- |
| 9. | | CHAPTER 8: DRIFTING INTO DANGER 00:05:06 |
| | | |
| --- | --- | --- |
| 10. | | And this time she had nearly finished learning the poem… 00:04:57 |
| | | |
| --- | --- | --- |
| 11. | | He was a tall powerfully - made young man… 00:05:04 |
| | | |
| --- | --- | --- |
| 12. | | After dinner, too, the gentlemen lingered… 00:05:27 |
| | | |
| --- | --- | --- |
| 13. | | 'Thursday, the 19th, Harriet,' said Lady Cumnor… 00:04:19 |
| | | |
| --- | --- | --- |
| 14. | | 'Do you think what Harriet says is true, Mary' 00:04:24 |
| | | |
| --- | --- | --- |
| 15. | | 'She is at school at Boulogne, I know…' 00:04:47 |
| | | |
| --- | --- | --- |
| 16. | | CHAPTER 9: THE WIDOWER AND THE WIDOW 00:03:18 |
| | | |
| --- | --- | --- |
| 17. | | It was a very pleasant change… 00:03:50 |

Disc 4
| | | |
| --- | --- | --- |
| 1. | | A disturbance to the pleasant, even course… 00:04:55 |
| | | |
| --- | --- | --- |
| 2. | | Mr. Gibson had been far too busy in his profession… 00:05:09 |
| | | |
| --- | --- | --- |
| 3. | | Ashcombe was a larger estate than that near Hollingford… 00:04:36 |
| | | |
| --- | --- | --- |
| 4. | | CHAPTER 10: A CRISIS 00:05:23 |
| | | |
| --- | --- | --- |
| 5. | | 'Could you love her as your daughter' 00:05:28 |
| | | |
| --- | --- | --- |
| 6. | | They were neither of them quite as desirous… 00:04:53 |
| | | |
| --- | --- | --- |
| 7. | | Mr. Gibson turned a little paler than he had been before. 00:04:38 |
| | | |
| --- | --- | --- |
| 8. | | Out of the bitterness of her heart she spoke… 00:04:40 |
| | | |
| --- | --- | --- |
| 9. | | She did not see Roger Hamley returning from the meadows… 00:05:28 |
| | | |
| --- | --- | --- |
| 10. | | She did not take her eyes away from his… 00:05:40 |
| | | |
| --- | --- | --- |
| 11. | | 'You will have thought me hard,' he burst out at length… 00:04:22 |
| | | |
| --- | --- | --- |
| 12. | | Molly was very near crying again. 00:04:58 |
| | | |
| --- | --- | --- |
| 13. | | CHAPTER 11: MAKING FRIENDSHIP 00:04:45 |
| | | |
| --- | --- | --- |
| 14. | | 'Because it isn't,' said she, daring all. 00:05:28 |
| | | |
| --- | --- | --- |
| 15. | | 'What eyes! So like your dear father's!' 00:03:52 |
| | | |
| --- | --- | --- |
| 16. | | 'Thank you, my own love.' 00:04:13 |

Disc 5
| | | |
| --- | --- | --- |
| 1. | | Molly followed Mrs. Kirkpatrick into the morning - room… 00:04:44 |
| | | |
| --- | --- | --- |
| 2. | | Mrs. Kirkpatrick fondled the hand thus placed in hers… 00:05:16 |
| | | |
| --- | --- | --- |
| 3. | | An old rhyme Molly had heard Betty use… 00:05:02 |
| | | |
| --- | --- | --- |
| 4. | | 'Thank you,' said she, her lips trembling… 00:03:15 |
| | | |
| --- | --- | --- |
| 5. | | And the tete - a - tete was merged in a trio. 00:02:53 |
| | | |
| --- | --- | --- |
| 6. | | CHAPTER 12: PREPARING FOR THE WEDDING 00:04:06 |
| | | |
| --- | --- | --- |
| 7. | | But Mr. Gibson, economical as he was… 00:05:27 |
| | | |
| --- | --- | --- |
| 8. | | Her preparations were thus in a very considerable state… 00:04:05 |
| | | |
| --- | --- | --- |
| 9. | | Mr. Gibson winced. Jeanie was his first love… 00:03:38 |
| | | |
| --- | --- | --- |
| 10. | | 'Nonsense, sister,' said Miss Browning. 00:03:48 |
| | | |
| --- | --- | --- |
| 11. | | CHAPTER 13: MOLLY GIBSON'S NEW FRIENDS 00:05:25 |
| | | |
| --- | --- | --- |
| 12. | | 'You seem to have seen a great deal of Mr. Roger, Molly!' 00:05:16 |
| | | |
| --- | --- | --- |
| 13. | | The next day Molly went with Miss Browning… 00:05:46 |
| | | |
| --- | --- | --- |
| 14. | | Mr. Gibson and Molly drove over to Ashcombe… 00:05:58 |
| | | |
| --- | --- | --- |
| 15. | | Then they went in to dinner. 00:05:14 |
| | | |
| --- | --- | --- |
| 16. | | CHAPTER 14: MOLLY FINDS HERSELF PATRONIZED 00:03:10 |
| | | |
| --- | --- | --- |
| 17. | | Before Molly could shape her next question… 00:04:38 |

Disc 6
| | | |
| --- | --- | --- |
| 1. | | Mr. Preston came into the room just at this time… 00:05:43 |
| | | |
| --- | --- | --- |
| 2. | | When he had left the room… 00:05:18 |
| | | |
| --- | --- | --- |
| 3. | | 'I've brought you the wasps' - nest I promised you…' 00:05:14 |
| | | |
| --- | --- | --- |
| 4. | | He looked round the table as he sate down. 00:04:43 |
| | | |
| --- | --- | --- |
| 5. | | 'Oh, Molly! I thought you'd never come back…' 00:05:00 |
| | | |
| --- | --- | --- |
| 6. | | CHAPTER 15: THE NEW MAMMA 00:05:28 |
| | | |
| --- | --- | --- |
| 7. | | Molly bit her lips to prevent herself from saying something… 00:05:17 |
| | | |
| --- | --- | --- |
| 8. | | One day he said to Molly, 'I wish you'd ask your mamma…' 00:05:05 |
| | | |
| --- | --- | --- |
| 9. | | 'Don't get any dainties for me, my dear…' 00:04:11 |
| | | |
| --- | --- | --- |
| 10. | | CHAPTER 16: THE BRIDE AT HOME 00:05:29 |
| | | |
| --- | --- | --- |
| 11. | | After they were gone, Mrs. Gibson began… 00:04:55 |
| | | |
| --- | --- | --- |
| 12. | | All this time the family at the Towers had been absent… 00:03:32 |
| | | |
| --- | --- | --- |
| 13. | | Just then Squire Hamley came in. 00:04:40 |
| | | |
| --- | --- | --- |
| 14. | | The squire was put out; and when he was put out… 00:04:36 |
| | | |
| --- | --- | --- |
| 15. | | CHAPTER 17: TROUBLE AT HAMLEY HALL 00:04:13 |
| | | |
| --- | --- | --- |
| 16. | | That sore had not yet healed over… 00:04:00 |

Disc 7
| | | |
| --- | --- | --- |
| 1. | | 'Don't you know, at all, how the money has gone' 00:05:47 |
| | | |
| --- | --- | --- |
| 2. | | Osborne's name was never mentioned… 00:04:45 |
| | | |
| --- | --- | --- |
| 3. | | Molly dreaded the squire's anger… 00:04:55 |
| | | |
| --- | --- | --- |
| 4. | | It is not to be supposed that Molly had remained… 00:05:34 |
| | | |
| --- | --- | --- |
| 5. | | CHAPTER 18: MR. OSBORNE'S SECRET 00:05:17 |
| | | |
| --- | --- | --- |
| 6. | | 'I don't believe my father could raise the money…' 00:05:08 |
| | | |
| --- | --- | --- |
| 7. | | So Molly hung about the house, trying to do all she could… 00:05:53 |
| | | |
| --- | --- | --- |
| 8. | | After a while he said… 00:05:22 |
| | | |
| --- | --- | --- |
| 9. | | She mounted on the ladder to get to a particular shelf… 00:05:23 |
| | | |
| --- | --- | --- |
| 10. | | 'The drawing - room must be refurnished…' 00:04:19 |
| | | |
| --- | --- | --- |
| 11. | | CHAPTER 19: CYNTHIA'S ARRIVAL 00:04:47 |
| | | |
| --- | --- | --- |
| 12. | | She settled herself to her work again… 00:04:28 |
| | | |
| --- | --- | --- |
| 13. | | Molly went into her own room, waiting to show Cynthia… 00:04:45 |
| | | |
| --- | --- | --- |
| 14. | | Day after day the course of these small frivolities… 00:04:34 |
| | | |
| --- | --- | --- |
| 15. | | 'I was a trouble, I daresay.' 00:03:20 |
| | | |
| --- | --- | --- |
| 16. | | Cynthia might well say she did not consider herself… 00:04:35 |

Disc 8
| | | |
| --- | --- | --- |
| 1. | | Cynthia herself appeared extremely indifferent… 00:01:40 |
| | | |
| --- | --- | --- |
| 2. | | CHAPTER 20: MRS. GIBSON'S VISITORS 00:05:45 |
| | | |
| --- | --- | --- |
| 3. | | Just at this moment, Molly heard the familiar sound… 00:05:45 |
| | | |
| --- | --- | --- |
| 4. | | 'I believe in senior wranglers,' said Cynthia… 00:05:18 |
| | | |
| --- | --- | --- |
| 5. | | They were talking of France. 00:05:06 |
| | | |
| --- | --- | --- |
| 6. | | CHAPTER 21: THE HALF - SISTERS 00:05:51 |
| | | |
| --- | --- | --- |
| 7. | | 'Ah, Roger!' he said one day. 00:05:35 |
| | | |
| --- | --- | --- |
| 8. | | Mrs. Gibson took up arms on behalf of her own daughter… 00:05:18 |
| | | |
| --- | --- | --- |
| 9. | | Molly caught a few words occasionally in intervals… 00:05:43 |
| | | |
| --- | --- | --- |
| 10. | | He made a face of dismay, and then went off to his duties. 00:05:45 |
| | | |
| --- | --- | --- |
| 11. | | 'I'm very glad I yawned in his face,' said Mr. Gibson. 00:05:40 |
| | | |
| --- | --- | --- |
| 12. | | CHAPTER 22: THE OLD SQUIRE'S TROUBLES 00:05:15 |
| | | |
| --- | --- | --- |
| 13. | | The remarks had come round… 00:05:13 |
| | | |
| --- | --- | --- |
| 14. | | 'You see, all you public schoolboys…' 00:03:23 |
| | | |
| --- | --- | --- |
| 15. | | About five minutes elapsed, spent by the hungry squire… 00:04:51 |

Disc 9
| | | |
| --- | --- | --- |
| 1. | | Osborne was strongly tempted to get up and leave… 00:04:55 |
| | | |
| --- | --- | --- |
| 2. | | 'I thought master wasn't justly himself, Mr. Osborne…' 00:04:21 |
| | | |
| --- | --- | --- |
| 3. | | CHAPTER 23: OSBORNE HAMLEY REVIEWS HIS POSITION 00:04:59 |
| | | |
| --- | --- | --- |
| 4. | | Then he bethought him of his poems – would they sell… 00:04:59 |
| | | |
| --- | --- | --- |
| 5. | | When Roger came home Osborne did not let a day pass… 00:04:13 |
| | | |
| --- | --- | --- |
| 6. | | As yet, Roger had never seen his brother's wife… 00:03:32 |
| | | |
| --- | --- | --- |
| 7. | | 'Not he,' said the squire, taking the pipe out of his mouth… 00:03:50 |
| | | |
| --- | --- | --- |
| 8. | | CHAPTER 24: MRS. GIBSON'S LITTLE DINNER 00:04:56 |
| | | |
| --- | --- | --- |
| 9. | | 'How could you talk such nonsense, Cynthia' 00:05:15 |
| | | |
| --- | --- | --- |
| 10. | | Osborne had instinctively gone to stand behind Cynthia… 00:05:36 |
| | | |
| --- | --- | --- |
| 11. | | CHAPTER 25: HOLLINGFORD IN A BUSTLE 00:05:06 |
| | | |
| --- | --- | --- |
| 12. | | Lady Harriet came to call on her old governess… 00:05:22 |
| | | |
| --- | --- | --- |
| 13. | | Off went Mrs. Gibson rather unwillingly… 00:05:25 |
| | | |
| --- | --- | --- |
| 14. | | Cynthia took the utmost pains in dressing Molly… 00:05:15 |
| | | |
| --- | --- | --- |
| 15. | | CHAPTER 26: A CHARITY BALL 00:04:24 |
| | | |
| --- | --- | --- |
| 16. | | Probably Mr. Roscoe would have felt more aggrieved… 00:05:48 |

Disc 10
| | | |
| --- | --- | --- |
| 1. | | Just at this moment the band… 00:04:50 |
| | | |
| --- | --- | --- |
| 2. | | Mr. Preston made no reply. 00:05:05 |
| | | |
| --- | --- | --- |
| 3. | | 'I should have felt honoured if you had accepted…' 00:05:23 |
| | | |
| --- | --- | --- |
| 4. | | Lady Harriet, who was rather different to Miss Piper… 00:05:18 |
| | | |
| --- | --- | --- |
| 5. | | 'I don't know about popularity or votes,' said Molly… 00:05:18 |
| | | |
| --- | --- | --- |
| 6. | | 'Nonsense; it would grieve papa beyond measure…' 00:03:44 |
| | | |
| --- | --- | --- |
| 7. | | This piece of news was of great interest to Molly… 00:04:05 |
| | | |
| --- | --- | --- |
| 8. | | CHAPTER 27: FATHER AND SONS 00:05:11 |
| | | |
| --- | --- | --- |
| 9. | | M. Geoffroi St H – was in England now… 00:04:49 |
| | | |
| --- | --- | --- |
| 10. | | 'How go the poems, old fellow' 00:04:08 |
| | | |
| --- | --- | --- |
| 11. | | All these prejudices were strengthened by his grief. 00:04:37 |
| | | |
| --- | --- | --- |
| 12. | | CHAPTER 28: RIVALRY 00:04:55 |
| | | |
| --- | --- | --- |
| 13. | | 'I should like it very much,' said Osborne… 00:04:12 |
| | | |
| --- | --- | --- |
| 14. | | But Cynthia had come across too many varieties of flirtation… 00:04:37 |
| | | |
| --- | --- | --- |
| 15. | | Now the first person out of the house… 00:03:25 |
| | | |
| --- | --- | --- |
| 16. | | For some reason or other, unknown to the Gibsons… 00:04:29 |

Disc 11
| | | |
| --- | --- | --- |
| 1. | | 'Mr. Roger Hamley,' was announced. 00:04:31 |
| | | |
| --- | --- | --- |
| 2. | | 'Ah! London is the true place…' 00:05:16 |
| | | |
| --- | --- | --- |
| 3. | | CHAPTER 29: BUSH - FIGHTING 00:04:33 |
| | | |
| --- | --- | --- |
| 4. | | And now both Osborne and Roger had left… 00:05:31 |
| | | |
| --- | --- | --- |
| 5. | | 'May I ask where you do spend your time…' 00:05:06 |
| | | |
| --- | --- | --- |
| 6. | | Then there was lunch, when everyone was merry… 00:04:52 |
| | | |
| --- | --- | --- |
| 7. | | 'Why' said Osborne, roused to a little curiosity… 00:05:10 |
| | | |
| --- | --- | --- |
| 8. | | 'Nonsense! I wish you wouldn't talk so, Cynthia!' 00:04:41 |
| | | |
| --- | --- | --- |
| 9. | | But she felt how different Roger's relation to her was. 00:04:18 |
| | | |
| --- | --- | --- |
| 10. | | CHAPTER 30: OLD WAYS AND NEW WAYS 00:04:45 |
| | | |
| --- | --- | --- |
| 11. | | 'But I'm a deal nearer Heaven to - day, I am.' 00:05:08 |
| | | |
| --- | --- | --- |
| 12. | | In those days people used to speak… 00:05:37 |
| | | |
| --- | --- | --- |
| 13. | | 'Mr. Preston, I can hardly understand what you mean…' 00:05:35 |
| | | |
| --- | --- | --- |
| 14. | | CHAPTER 31: A PASSIVE COQUETTE 00:05:36 |
| | | |
| --- | --- | --- |
| 15. | | In the first instance… 00:05:04 |

Disc 12
| | | |
| --- | --- | --- |
| 1. | | Molly was dejected, she knew not why. 00:04:21 |
| | | |
| --- | --- | --- |
| 2. | | It may be all very pleasant… 00:03:40 |
| | | |
| --- | --- | --- |
| 3. | | The squire dwelt so much upon… 00:03:12 |
| | | |
| --- | --- | --- |
| 4. | | CHAPTER 32: COMING EVENTS 00:05:27 |
| | | |
| --- | --- | --- |
| 5. | | 'You must be married again,' said Roger… 00:04:11 |
| | | |
| --- | --- | --- |
| 6. | | So runs the round of life from day to day. 00:04:42 |
| | | |
| --- | --- | --- |
| 7. | | 'Lady Harriet is coming here this morning…' 00:04:30 |
| | | |
| --- | --- | --- |
| 8. | | Lady Harriet was sorry to miss Molly… 00:05:08 |
| | | |
| --- | --- | --- |
| 9. | | 'Lady Harriet! I think you might have known…' 00:04:01 |
| | | |
| --- | --- | --- |
| 10. | | 'It seems to me a very laudable and useful object…' 00:03:04 |
| | | |
| --- | --- | --- |
| 11. | | Molly went the long walk to the Holly Farm… 00:03:17 |
| | | |
| --- | --- | --- |
| 12. | | CHAPTER 33: BRIGHTENING PROSPECTS 00:04:55 |
| | | |
| --- | --- | --- |
| 13. | | It was a manly, feeling, sensible letter… 00:04:40 |
| | | |
| --- | --- | --- |
| 14. | | 'Come, squire, I must not hear anything…' 00:04:28 |
| | | |
| --- | --- | --- |
| 15. | | It was all very fine giving the squire this good advice… 00:03:52 |
| | | |
| --- | --- | --- |
| 16. | | CHAPTER 34: A LOVER'S MISTAKE 00:04:15 |
| | | |
| --- | --- | --- |
| 17. | | 'I have been watching for you, dear…' 00:04:16 |
| | | |
| --- | --- | --- |
| 18. | | With a gulp and a fit of resolution… 00:04:08 |

Disc 13
| | | |
| --- | --- | --- |
| 1. | | The little pendule on the chimney - piece… 00:05:36 |
| | | |
| --- | --- | --- |
| 2. | | 'Why, Molly!' said Cynthia… 00:04:55 |
| | | |
| --- | --- | --- |
| 3. | | CHAPTER 35: THE MOTHER'S MANOEUVRE 00:05:30 |
| | | |
| --- | --- | --- |
| 4. | | She looked as if she was going to cry again… 00:04:49 |
| | | |
| --- | --- | --- |
| 5. | | 'Don't you know that all professional conversations…' 00:05:35 |
| | | |
| --- | --- | --- |
| 6. | | 'Shall I tell you what I should do' said Mr. Gibson… 00:05:13 |
| | | |
| --- | --- | --- |
| 7. | | Cynthia looked extremely annoyed. 00:05:03 |
| | | |
| --- | --- | --- |
| 8. | | 'No!' he said at last, with a sigh. 00:04:52 |
| | | |
| --- | --- | --- |
| 9. | | Mr. Gibson's face relaxed now… 00:05:02 |
| | | |
| --- | --- | --- |
| 10. | | CHAPTER 36: DOMESTIC DIPLOMACY 00:05:24 |
| | | |
| --- | --- | --- |
| 11. | | 'Well, then, you won't go!' said Mr. Gibson… 00:04:27 |
| | | |
| --- | --- | --- |
| 12. | | 'Do you think she's worthy of him' asked her father… 00:05:30 |
| | | |
| --- | --- | --- |
| 13. | | CHAPTER 37: A FLUKE, AND WHAT CAME OF IT 00:06:03 |
| | | |
| --- | --- | --- |
| 14. | | After a fortnight's time… 00:05:51 |

Disc 14
| | | |
| --- | --- | --- |
| 1. | | Mr. Gibson went upstairs to the drawing - room… 00:05:31 |
| | | |
| --- | --- | --- |
| 2. | | "'Not guilty, but we recommend the prisoner…"' 00:05:13 |
| | | |
| --- | --- | --- |
| 3. | | But Cynthia, instead of replying to this question… 00:03:30 |
| | | |
| --- | --- | --- |
| 4. | | For a long time Molly had been surprised… 00:04:40 |
| | | |
| --- | --- | --- |
| 5. | | Then Cynthia's ways and manners about Roger… 00:05:19 |
| | | |
| --- | --- | --- |
| 6. | | CHAPTER 38: MR. KIRKPATRICK, Q.C. 00:04:55 |
| | | |
| --- | --- | --- |
| 7. | | 'Dear - ah - me!' said the old lady… 00:05:11 |
| | | |
| --- | --- | --- |
| 8. | | 'She was so sorry for what she'd done…' 00:04:51 |
| | | |
| --- | --- | --- |
| 9. | | When the two gentlemen met… 00:03:51 |
| | | |
| --- | --- | --- |
| 10. | | 'If you want us to sympathize with you…' 00:03:34 |
| | | |
| --- | --- | --- |
| 11. | | 'But then she must have got the money somewhere.' 00:03:47 |
| | | |
| --- | --- | --- |
| 12. | | CHAPTER 39: SECRET THOUGHTS OOZE OUT 00:05:26 |
| | | |
| --- | --- | --- |
| 13. | | 'Ah,' said Mrs. Gibson… 00:06:46 |
| | | |
| --- | --- | --- |
| 14. | | To return to the squire. Occupied as he now was… 00:05:03 |
| | | |
| --- | --- | --- |
| 15. | | 'Osborne! Do you know anything about this…' 00:05:40 |

Disc 15
| | | |
| --- | --- | --- |
| 1. | | But after his father had left the room… 00:03:32 |
| | | |
| --- | --- | --- |
| 2. | | And then she plunged into the tete - a - tete… 00:03:17 |
| | | |
| --- | --- | --- |
| 3. | | CHAPTER 40: MOLLY GIBSON BREATHES FREELY 00:05:22 |
| | | |
| --- | --- | --- |
| 4. | | In general, it is the people who are left behind… 00:04:32 |
| | | |
| --- | --- | --- |
| 5. | | Mrs. Gibson wrote twice during her week's absence… 00:04:54 |
| | | |
| --- | --- | --- |
| 6. | | Molly did not answer all at once. 00:05:44 |
| | | |
| --- | --- | --- |
| 7. | | CHAPTER 41: GATHERING CLOUDS 00:05:07 |
| | | |
| --- | --- | --- |
| 8. | | Whenever anything had gone wrong… 00:04:59 |
| | | |
| --- | --- | --- |
| 9. | | She knew that Cynthia withheld from her… 00:05:28 |
| | | |
| --- | --- | --- |
| 10. | | 'I can't understand you, Cynthia,' she said at length. 00:04:14 |
| | | |
| --- | --- | --- |
| 11. | | 'As far as I can judge of London,' said Miss Browning… 00:04:48 |
| | | |
| --- | --- | --- |
| 12. | | 'I shall not stand on warning you, Molly.' 00:05:56 |
| | | |
| --- | --- | --- |
| 13. | | CHAPTER 42: THE STORM BURSTS 00:04:31 |
| | | |
| --- | --- | --- |
| 14. | | So she went up to the top of the hill… 00:04:35 |
| | | |
| --- | --- | --- |
| 15. | | 'Cynthia,' said he, suddenly changing his tone… 00:03:27 |
| | | |
| --- | --- | --- |
| 16. | | 'I am quite puzzled by you both,' said Molly. 00:02:58 |
| | | |
| --- | --- | --- |
| 17. | | 'You do not call it love…' 00:03:33 |

Disc 16
| | | |
| --- | --- | --- |
| 1. | | When she went into the drawing - room before dinner… 00:04:01 |
| | | |
| --- | --- | --- |
| 2. | | CHAPTER 43: CYNTHIA'S CONFESSION 00:04:26 |
| | | |
| --- | --- | --- |
| 3. | | Then she paused, and sate still for a minute or two… 00:04:51 |
| | | |
| --- | --- | --- |
| 4. | | He had twenty pounds in his pocket… 00:05:00 |
| | | |
| --- | --- | --- |
| 5. | | '…I cannot tell you all the ins and outs…' 00:03:40 |
| | | |
| --- | --- | --- |
| 6. | | 'Oh, at first he pretended not to believe…' 00:04:00 |
| | | |
| --- | --- | --- |
| 7. | | Cynthia began to cry, out of weariness of body… 00:03:46 |
| | | |
| --- | --- | --- |
| 8. | | CHAPTER 44: MOLLY GIBSON TO THE RESCUE 00:05:09 |
| | | |
| --- | --- | --- |
| 9. | | It did strike Molly that Cynthia… 00:04:49 |
| | | |
| --- | --- | --- |
| 10. | | 'You should not speak so…' 00:05:21 |
| | | |
| --- | --- | --- |
| 11. | | 'You are very simple, Miss Gibson,' said he… 00:04:46 |
| | | |
| --- | --- | --- |
| 12. | | Cynthia was on the watch for her return… 00:04:03 |
| | | |
| --- | --- | --- |
| 13. | | CHAPTER 45: CONFIDENCES 00:04:37 |
| | | |
| --- | --- | --- |
| 14. | | She was startled from her meditations… 00:04:56 |
| | | |
| --- | --- | --- |
| 15. | | 'You and I must go on the next journey…' 00:03:50 |
| | | |
| --- | --- | --- |
| 16. | | 'But there is something between Cynthia and Roger…' 00:04:29 |
| | | |
| --- | --- | --- |
| 17. | | 'I hope you did not want to see him…' 00:05:23 |

Disc 17
| | | |
| --- | --- | --- |
| 1. | | CHAPTER 46: HOLLINGFORD GOSSIPS 00:05:05 |
| | | |
| --- | --- | --- |
| 2. | | Molly went upstairs to get ready… 00:04:37 |
| | | |
| --- | --- | --- |
| 3. | | All through the evening Molly's thoughts wandered… 00:04:14 |
| | | |
| --- | --- | --- |
| 4. | | 'I'm sure I don't want to hear of clandestine meetings…' 00:04:07 |
| | | |
| --- | --- | --- |
| 5. | | 'Why, who told you' said Mrs. Goodenough… 00:04:38 |
| | | |
| --- | --- | --- |
| 6. | | CHAPTER 47: SCANDAL AND ITS VICTIMS 00:05:45 |
| | | |
| --- | --- | --- |
| 7. | | The operation on Lady Cumnor… 00:05:02 |
| | | |
| --- | --- | --- |
| 8. | | For a good while the Miss Brownings… 00:05:03 |
| | | |
| --- | --- | --- |
| 9. | | Miss Browning's distress was overcoming her anger… 00:04:11 |
| | | |
| --- | --- | --- |
| 10. | | 'Well!' she said at length, rising up… 00:04:15 |
| | | |
| --- | --- | --- |
| 11. | | 'Go on, can't you' said he… 00:04:40 |
| | | |
| --- | --- | --- |
| 12. | | CHAPTER 48: AN INNOCENT CULPRIT 00:05:14 |
| | | |
| --- | --- | --- |
| 13. | | He could not help relenting at her words… 00:04:29 |
| | | |
| --- | --- | --- |
| 14. | | It was a great relief to Mr. Gibson… 00:04:33 |
| | | |
| --- | --- | --- |
| 15. | | 'I think the world would get on tolerably well…' 00:04:44 |
| | | |
| --- | --- | --- |
| 16. | | Then Molly knew that her stepmother… 00:04:38 |

Disc 18
| | | |
| --- | --- | --- |
| 1. | | CHAPTER 49: MOLLY GIBSON FINDS A CHAMPION 00:04:54 |
| | | |
| --- | --- | --- |
| 2. | | 'Well, I think the least you can do…' 00:04:26 |
| | | |
| --- | --- | --- |
| 3. | | The next day Lady Harriet rode over to Hollingford… 00:04:52 |
| | | |
| --- | --- | --- |
| 4. | | Lady Harriet, meanwhile, was riding homewards… 00:04:00 |
| | | |
| --- | --- | --- |
| 5. | | 'No, my lord. I have no intentions…' 00:04:32 |
| | | |
| --- | --- | --- |
| 6. | | CHAPTER 50: CYNTHIA AT BAY 00:05:12 |
| | | |
| --- | --- | --- |
| 7. | | 'Refused him – and you never told me…' 00:05:15 |
| | | |
| --- | --- | --- |
| 8. | | The second and the last day of her stay at the Towers… 00:04:47 |
| | | |
| --- | --- | --- |
| 9. | | Once in her own room, Lady Harriet… 00:05:12 |
| | | |
| --- | --- | --- |
| 10. | | 'Well! I don't like it, at any rate. It is not pleasant…' 00:05:22 |
| | | |
| --- | --- | --- |
| 11. | | Mrs. Gibson, too, had been awed into silence… 00:05:38 |
| | | |
| --- | --- | --- |
| 12. | | CHAPTER 51: 'TROUBLES NEVER COME ALONE' 00:04:36 |
| | | |
| --- | --- | --- |
| 13. | | 'And now, Mr. Gibson…' 00:05:23 |
| | | |
| --- | --- | --- |
| 14. | | 'Molly, Roger will marry you!' 00:04:55 |
| | | |
| --- | --- | --- |
| 15. | | So down into the cluster of collected women… 00:03:52 |
| | | |
| --- | --- | --- |
| 16. | | After a moment's pause… 00:04:52 |

Disc 19
| | | |
| --- | --- | --- |
| 1. | | CHAPTER 52: SQUIRE HAMLEY'S SORROW 00:05:02 |
| | | |
| --- | --- | --- |
| 2. | | Forgetting, apparently, what time of night it was… 00:04:44 |
| | | |
| --- | --- | --- |
| 3. | | 'I do try to say, God's will be done, sir,' said the squire… 00:05:32 |
| | | |
| --- | --- | --- |
| 4. | | 'Osborne evidently had bound him down to secrecy…' 00:04:17 |
| | | |
| --- | --- | --- |
| 5. | | Little by little he led the squire… 00:05:44 |
| | | |
| --- | --- | --- |
| 6. | | Molly had no doubt that Osborne… 00:04:29 |
| | | |
| --- | --- | --- |
| 7. | | But Molly kept her pleading eyes fixed on Cynthia. 00:03:57 |
| | | |
| --- | --- | --- |
| 8. | | CHAPTER 53: UNLOOKED - FOR ARRIVALS 00:04:37 |
| | | |
| --- | --- | --- |
| 9. | | 'Give it me,' said the squire, his voice breaking now… 00:05:13 |
| | | |
| --- | --- | --- |
| 10. | | 'So you always say, daughter. Time will show.' 00:05:17 |
| | | |
| --- | --- | --- |
| 11. | | There was a 'lingerie' shop, kept by a Frenchwoman… 00:04:08 |
| | | |
| --- | --- | --- |
| 12. | | Robinson had been aware that there was some mystery… 00:04:46 |
| | | |
| --- | --- | --- |
| 13. | | So Molly and the woman lifted her up… 00:03:04 |
| | | |
| --- | --- | --- |
| 14. | | By - and - by the squire said in a whisper… 00:03:23 |
| | | |
| --- | --- | --- |
| 15. | | CHAPTER 54: MOLLY GIBSON'S WORTH IS DISCOVERED 00:05:27 |
| | | |
| --- | --- | --- |
| 16. | | Worn out by the contending emotions of the day… 00:04:10 |
| | | |
| --- | --- | --- |
| 17. | | It was well that Molly was such a favourite… 00:04:51 |

Disc 20
| | | |
| --- | --- | --- |
| 1. | | From time to time her father rode up to the window… 00:04:42 |
| | | |
| --- | --- | --- |
| 2. | | 'Really, Clare, I spend so much time in your house…' 00:05:11 |
| | | |
| --- | --- | --- |
| 3. | | 'I am afraid she has been very ill' asked Cynthia. 00:05:19 |
| | | |
| --- | --- | --- |
| 4. | | CHAPTER 55: AN ABSENT LOVER RETURNS 00:04:22 |
| | | |
| --- | --- | --- |
| 5. | | 'If a young man of twenty - four…' 00:05:09 |
| | | |
| --- | --- | --- |
| 6. | | Mrs. Gibson could hardly wait… 00:05:03 |
| | | |
| --- | --- | --- |
| 7. | | The little trap thus set for news… 00:04:28 |
| | | |
| --- | --- | --- |
| 8. | | All the rest of the day she alluded to Cynthia… 00:05:22 |
| | | |
| --- | --- | --- |
| 9. | | CHAPTER 56: 'OFF WITH THE OLD LOVE, AND ON WITH THE NEW.' 00:05:20 |
| | | |
| --- | --- | --- |
| 10. | | Someone was thinking about her at the same time… 00:04:36 |
| | | |
| --- | --- | --- |
| 11. | | And Roger ran downstairs at full speed… 00:04:14 |
| | | |
| --- | --- | --- |
| 12. | | In the evening Mr. Henderson came. 00:04:53 |
| | | |
| --- | --- | --- |
| 13. | | Mr. and Mrs. Kirkpatrick sent all manner… 00:02:59 |

Disc 21
| | | |
| --- | --- | --- |
| 1. | | CHAPTER 57: BRIDAL VISITS AND ADIEUX 00:05:01 |
| | | |
| --- | --- | --- |
| 2. | | Had Roger indeed been asked to the Towers and declined 00:05:03 |
| | | |
| --- | --- | --- |
| 3. | | Molly was sitting in the drawing - room… 00:05:17 |
| | | |
| --- | --- | --- |
| 4. | | Molly's heart sank within her at the prospect. 00:03:20 |
| | | |
| --- | --- | --- |
| 5. | | So Molly was driven off in state the next day… 00:03:45 |
| | | |
| --- | --- | --- |
| 6. | | Molly was only too glad to allow Lady Harriet… 00:04:55 |
| | | |
| --- | --- | --- |
| 7. | | CHAPTER 58: REVIVING HOPES AND BRIGHTENING PROSPECTS 00:05:10 |
| | | |
| --- | --- | --- |
| 8. | | On Saturday they were more fortunate… 00:04:21 |