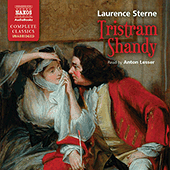 STERNE, L.: Tristram Shandy (Unabridged)
One of the most extraordinary novels ever written in English, Tristram Shandy defies categorisation. A vast, shaggy-dog story, a cock-and-bull tale, a self-conscious and mocking parody of the novel itself, a bawdy romp—it is all these and more.
Published between 1759 and 1767, it is ostensibly a fictional autobiography, but it digresses so much that the hero is not even born until the fourth volume. There are blank pages, black pages, missing chapters and many more unconventional devices. Satire, parody, broad humour and an intellectual joie de vivre mark it as a stylistic masterpiece; but the magnificent Walter Shandy, the loyal Corporal Trim, and the gentle Uncle Toby give it humanity and an unexpected tenderness.
Endlessly inventive, full of knowing asides and puns of all varieties, it continues to influence writers today; and it changed forever the possibilities of the novel itself.

Disc 1
| | | |
| --- | --- | --- |
| 1. | | Volume 1 Chapter 1 00:02:31 |
| | | |
| --- | --- | --- |
| 2. | | Volume 1 Chapter 2 00:02:36 |
| | | |
| --- | --- | --- |
| 3. | | Volume 1 Chapter 3 00:01:21 |
| | | |
| --- | --- | --- |
| 4. | | Volume 1 Chapter 4 00:05:08 |
| | | |
| --- | --- | --- |
| 5. | | Volume 1 Chapter 5 00:01:45 |
| | | |
| --- | --- | --- |
| 6. | | Volume 1 Chapter 6 00:01:50 |
| | | |
| --- | --- | --- |
| 7. | | Volume 1 Chapter 7 00:04:11 |
| | | |
| --- | --- | --- |
| 8. | | Volume 1 Chapter 8 00:03:27 |
| | | |
| --- | --- | --- |
| 9. | | Volume 1 Chapter 9 00:03:31 |
| | | |
| --- | --- | --- |
| 10. | | Volume 1 Chapter 10 00:05:43 |
| | | |
| --- | --- | --- |
| 11. | | At different times he would give 50 humorous… 00:07:06 |
| | | |
| --- | --- | --- |
| 12. | | Volume 1 Chapter 11 00:04:51 |
| | | |
| --- | --- | --- |
| 13. | | With all this sail, poor Yorrick… 00:03:38 |
| | | |
| --- | --- | --- |
| 14. | | Volume 1 Chapter 12 00:10:24 |
| | | |
| --- | --- | --- |
| 15. | | Volume 1 Chapter 13 00:02:44 |
| | | |
| --- | --- | --- |
| 16. | | Volume 1 Chapter 14 00:02:48 |
| | | |
| --- | --- | --- |
| 17. | | Volume 1 Chapter 15 00:07:52 |
| | | |
| --- | --- | --- |
| 18. | | Volume 1 Chapter 16 00:03:15 |
| | | |
| --- | --- | --- |
| 19. | | Volume 1 Chapter 17 00:01:27 |

Disc 2
| | | |
| --- | --- | --- |
| 1. | | Volume 1 Chapter 18 00:06:34 |
| | | |
| --- | --- | --- |
| 2. | | 'Why are there so few palaces…' 00:05:34 |
| | | |
| --- | --- | --- |
| 3. | | Volume 1 Chapter 19 00:06:35 |
| | | |
| --- | --- | --- |
| 4. | | I mention this, not only as a matter of hypothesis… 00:06:20 |
| | | |
| --- | --- | --- |
| 5. | | Volume 1 Chapter 20 00:04:23 |
| | | |
| --- | --- | --- |
| 6. | | Memoire presente a Messieurs les Docteurs de Sorbonne… 00:05:12 |
| | | |
| --- | --- | --- |
| 7. | | Mr. Tristram Shandy's compliments… 00:00:48 |
| | | |
| --- | --- | --- |
| 8. | | Volume 1 Chapter 21 00:05:24 |
| | | |
| --- | --- | --- |
| 9. | | It will seem strange… 00:06:08 |
| | | |
| --- | --- | --- |
| 10. | | In any other family dishonour… 00:04:09 |
| | | |
| --- | --- | --- |
| 11. | | Volume 1 Chapter 22 00:04:21 |
| | | |
| --- | --- | --- |
| 12. | | Volume 1 Chapter 23 00:05:53 |
| | | |
| --- | --- | --- |
| 13. | | Volume 1 Chapter 24 00:02:47 |
| | | |
| --- | --- | --- |
| 14. | | Volume 1 Chapter 25 00:03:09 |
| | | |
| --- | --- | --- |
| 15. | | Volume 2 Chapter 1 00:05:13 |

Disc 3
| | | |
| --- | --- | --- |
| 1. | | Volume 2 Chapter 2 00:07:17 |
| | | |
| --- | --- | --- |
| 2. | | Volume 2 Chapter 3 00:05:10 |
| | | |
| --- | --- | --- |
| 3. | | Volume 2 Chapter 4 00:04:15 |
| | | |
| --- | --- | --- |
| 4. | | Volume 2 Chapter 5 00:04:13 |
| | | |
| --- | --- | --- |
| 5. | | I have but one more stroke to give to finish… 00:03:40 |
| | | |
| --- | --- | --- |
| 6. | | Your Honour understands these matters… 00:04:25 |
| | | |
| --- | --- | --- |
| 7. | | Volume 2 Chapter 6 00:03:58 |
| | | |
| --- | --- | --- |
| 8. | | Volume 2 Chapter 7 00:04:01 |
| | | |
| --- | --- | --- |
| 9. | | Volume 2 Chapter 8 00:02:47 |
| | | |
| --- | --- | --- |
| 10. | | Volume 2 Chapter 9 00:04:11 |
| | | |
| --- | --- | --- |
| 11. | | Volume 2 Chapter 10 00:03:01 |
| | | |
| --- | --- | --- |
| 12. | | Volume 2 Chapter 11 00:02:54 |
| | | |
| --- | --- | --- |
| 13. | | Volume 2 Chapter 12 00:06:09 |
| | | |
| --- | --- | --- |
| 14. | | - Go - says he, one day at dinner… 00:05:12 |
| | | |
| --- | --- | --- |
| 15. | | Volume 2 Chapter 13 00:00:22 |
| | | |
| --- | --- | --- |
| 16. | | Volume 2 Chapter 14 00:05:20 |
| | | |
| --- | --- | --- |
| 17. | | Volume 2 Chapter 15 00:02:51 |
| | | |
| --- | --- | --- |
| 18. | | Volume 2 Chapter 16 00:00:53 |

Disc 4
| | | |
| --- | --- | --- |
| 1. | | Volume 2 Chapter 17 00:06:03 |
| | | |
| --- | --- | --- |
| 2. | | God help him then, quoth my uncle Toby. 00:06:25 |
| | | |
| --- | --- | --- |
| 3. | | 'But the converse of the proposition…' 00:06:29 |
| | | |
| --- | --- | --- |
| 4. | | (Here Corporal Trim and my uncle Toby…) 00:05:44 |
| | | |
| --- | --- | --- |
| 5. | | 'Blessed is the man, indeed…' 00:07:23 |
| | | |
| --- | --- | --- |
| 6. | | 'As, therefore, we can have no dependence…' 00:06:40 |
| | | |
| --- | --- | --- |
| 7. | | My father went on.)' - Consider the nature… 00:05:26 |
| | | |
| --- | --- | --- |
| 8. | | It seems that Yorick, who was inquisitive… 00:02:34 |
| | | |
| --- | --- | --- |
| 9. | | Volume 2 Chapter 18 00:02:32 |
| | | |
| --- | --- | --- |
| 10. | | Volume 2 Chapter 19 00:05:51 |
| | | |
| --- | --- | --- |
| 11. | | Now, as it was plain to my father… 00:04:26 |
| | | |
| --- | --- | --- |
| 12. | | My father, who dipped into all kinds of books… 00:04:48 |
| | | |
| --- | --- | --- |
| 13. | | When my father had got so far… 00:04:26 |
| | | |
| --- | --- | --- |
| 14. | | Volume 3 Chapter 1 00:06:23 |

Disc 5
| | | |
| --- | --- | --- |
| 1. | | Volume 3 Chapter 4 00:02:54 |
| | | |
| --- | --- | --- |
| 2. | | Volume 3 Chapter 5 00:01:46 |
| | | |
| --- | --- | --- |
| 3. | | Volume 3 Chapter 6 00:01:33 |
| | | |
| --- | --- | --- |
| 4. | | Volume 3 Chapter 7 00:02:17 |
| | | |
| --- | --- | --- |
| 5. | | Volume 3 Chapter 8 00:02:36 |
| | | |
| --- | --- | --- |
| 6. | | Volume 3 Chapter 9 00:01:11 |
| | | |
| --- | --- | --- |
| 7. | | Volume 3 Chapter 10 00:06:13 |
| | | |
| --- | --- | --- |
| 8. | | Volume 3 Chapter 11 00:04:03 |
| | | |
| --- | --- | --- |
| 9. | | May the holy choir of the holy virgins… 00:04:36 |
| | | |
| --- | --- | --- |
| 10. | | Volume 3 Chapter 12 00:06:45 |
| | | |
| --- | --- | --- |
| 11. | | Volume 3 Chapter 13 00:01:43 |
| | | |
| --- | --- | --- |
| 12. | | Volume 3 Chapter 14 00:02:09 |
| | | |
| --- | --- | --- |
| 13. | | Volume 3 Chapter 15 00:01:33 |
| | | |
| --- | --- | --- |
| 14. | | Volume 3 Chapter 16 00:01:23 |
| | | |
| --- | --- | --- |
| 15. | | Volume 3 Chapter 17 00:01:25 |
| | | |
| --- | --- | --- |
| 16. | | Volume 3 Chapter 18 00:05:31 |
| | | |
| --- | --- | --- |
| 17. | | Volume 3 Chapter 19 00:01:10 |
| | | |
| --- | --- | --- |
| 18. | | Volume 3 Chapter 20 00:06:26 |
| | | |
| --- | --- | --- |
| 19. | | But then again, as we should all of us be men… 00:04:54 |
| | | |
| --- | --- | --- |
| 20. | | It is by these observations, and a wary reasoning… 00:06:03 |
| | | |
| --- | --- | --- |
| 21. | | I enter now directly upon the point. 00:04:58 |
| | | |
| --- | --- | --- |
| 22. | | Volume 3 Chapter 21 00:01:42 |
| | | |
| --- | --- | --- |
| 23. | | Volume 3 Chapter 22 00:04:54 |

Disc 6
| | | |
| --- | --- | --- |
| 1. | | Volume 3 Chapter 23 00:03:22 |
| | | |
| --- | --- | --- |
| 2. | | Volume 3 Chapter 24 00:04:24 |
| | | |
| --- | --- | --- |
| 3. | | My Father, as you have observed… 00:04:05 |
| | | |
| --- | --- | --- |
| 4. | | Volume 3 Chapter 25 00:03:34 |
| | | |
| --- | --- | --- |
| 5. | | Volume 3 Chapter 26 00:01:00 |
| | | |
| --- | --- | --- |
| 6. | | Volume 3 Chapter 27 00:00:36 |
| | | |
| --- | --- | --- |
| 7. | | Volume 3 Chapter 28 00:01:25 |
| | | |
| --- | --- | --- |
| 8. | | Volume 3 Chapter 29 00:02:19 |
| | | |
| --- | --- | --- |
| 9. | | Volume 3 Chapter 30 00:01:04 |
| | | |
| --- | --- | --- |
| 10. | | Volume 3 Chapter 31 00:03:39 |
| | | |
| --- | --- | --- |
| 11. | | Volume 3 Chapter 32 00:01:10 |
| | | |
| --- | --- | --- |
| 12. | | Volume 3 Chapter 33 00:03:46 |
| | | |
| --- | --- | --- |
| 13. | | Volume 3 Chapter 34 00:05:45 |
| | | |
| --- | --- | --- |
| 14. | | Volume 3 Chapter 35 00:02:00 |
| | | |
| --- | --- | --- |
| 15. | | Volume 3 Chapter 36 00:01:56 |
| | | |
| --- | --- | --- |
| 16. | | Volume 3 Chapter 37 00:02:38 |
| | | |
| --- | --- | --- |
| 17. | | Volume 3 Chapter 38 00:06:27 |
| | | |
| --- | --- | --- |
| 18. | | Now Ambrose Pareus convinced my father… 00:03:08 |
| | | |
| --- | --- | --- |
| 19. | | Volume 3 Chapter 39 00:02:37 |
| | | |
| --- | --- | --- |
| 20. | | Volume 3 Chapter 40 00:02:06 |
| | | |
| --- | --- | --- |
| 21. | | Volume 3 Chapter 41 00:05:17 |
| | | |
| --- | --- | --- |
| 22. | | Volume 3 Chapter 42 00:02:33 |
| | | |
| --- | --- | --- |
| 23. | | Volume 4 (start) 00:03:29 |
| | | |
| --- | --- | --- |
| 24. | | The stranger's mule moved on at so slow a pace… 00:04:15 |
| | | |
| --- | --- | --- |
| 25. | | The stranger had not got half a league on his way… 00:05:16 |

Disc 7
| | | |
| --- | --- | --- |
| 1. | | The nuns of St. Ursula acted the wisest… 00:06:03 |
| | | |
| --- | --- | --- |
| 2. | | It was demonstrated however very satisfactorily… 00:05:45 |
| | | |
| --- | --- | --- |
| 3. | | - which had decided the point incontestably… 00:06:30 |
| | | |
| --- | --- | --- |
| 4. | | By God in heaven, cried the Popish doctors… 00:05:41 |
| | | |
| --- | --- | --- |
| 5. | | The traveller was hastening with all diligence… 00:05:54 |
| | | |
| --- | --- | --- |
| 6. | | Ode. Harsh and untuneful are the notes of love… 00:04:03 |
| | | |
| --- | --- | --- |
| 7. | | Volume 4 Chapter 1 00:03:23 |
| | | |
| --- | --- | --- |
| 8. | | Volume 4 Chapter 2 00:01:31 |
| | | |
| --- | --- | --- |
| 9. | | Volume 4 Chapter 3 00:00:54 |
| | | |
| --- | --- | --- |
| 10. | | Volume 4 Chapter 4 00:03:29 |
| | | |
| --- | --- | --- |
| 11. | | Volume 4 Chapter 5 00:00:15 |
| | | |
| --- | --- | --- |
| 12. | | Volume 4 Chapter 6 00:01:22 |
| | | |
| --- | --- | --- |
| 13. | | Volume 4 Chapter 7 00:02:48 |
| | | |
| --- | --- | --- |
| 14. | | Volume 4 Chapter 8 00:02:09 |
| | | |
| --- | --- | --- |
| 15. | | Volume 4 Chapter 9 00:02:19 |
| | | |
| --- | --- | --- |
| 16. | | Volume 4 Chapter 10 00:04:24 |
| | | |
| --- | --- | --- |
| 17. | | Volume 4 Chapter 11 00:00:33 |
| | | |
| --- | --- | --- |
| 18. | | Volume 4 Chapter 12 00:02:00 |
| | | |
| --- | --- | --- |
| 19. | | Volume 4 Chapter 13 00:03:33 |
| | | |
| --- | --- | --- |
| 20. | | Volume 4 Chapter 14 00:03:26 |
| | | |
| --- | --- | --- |
| 21. | | Volume 4 Chapter 15 00:03:37 |
| | | |
| --- | --- | --- |
| 22. | | Volume 4 Chapter 16 00:01:56 |
| | | |
| --- | --- | --- |
| 23. | | Volume 4 Chapter 17 00:03:01 |
| | | |
| --- | --- | --- |
| 24. | | Volume 4 Chapter 18 00:03:09 |

Disc 8
| | | |
| --- | --- | --- |
| 1. | | Volume 4 Chapter 19 00:06:28 |
| | | |
| --- | --- | --- |
| 2. | | Volume 4 Chapter 20 00:01:58 |
| | | |
| --- | --- | --- |
| 3. | | Volume 4 Chapter 21 00:03:06 |
| | | |
| --- | --- | --- |
| 4. | | Volume 4 Chapter 22 00:01:38 |
| | | |
| --- | --- | --- |
| 5. | | Volume 4 Chapter 23 00:01:38 |
| | | |
| --- | --- | --- |
| 6. | | Volume 4 Chapter 25 00:06:38 |
| | | |
| --- | --- | --- |
| 7. | | Volume 4 Chapter 26 00:02:44 |
| | | |
| --- | --- | --- |
| 8. | | Volume 4 Chapter 27 00:06:04 |
| | | |
| --- | --- | --- |
| 9. | | It is not my business to dip my pen… 00:05:51 |
| | | |
| --- | --- | --- |
| 10. | | This conceit awaken'd Somnolentus… 00:02:05 |
| | | |
| --- | --- | --- |
| 11. | | Volume 4 Chapter 28 00:03:18 |
| | | |
| --- | --- | --- |
| 12. | | Volume 4 Chapter 29 00:05:50 |
| | | |
| --- | --- | --- |
| 13. | | The administration being thus… 00:03:51 |
| | | |
| --- | --- | --- |
| 14. | | Volume 4 Chapter 30 00:01:08 |
| | | |
| --- | --- | --- |
| 15. | | Volume 4 Chapter 31 00:05:00 |
| | | |
| --- | --- | --- |
| 16. | | However, as neither the purchasing… 00:03:45 |
| | | |
| --- | --- | --- |
| 17. | | Volume 4 Chapter 32 00:04:47 |
| | | |
| --- | --- | --- |
| 18. | | Volume 5 Chapter 1 00:06:02 |
| | | |
| --- | --- | --- |
| 19. | | The excellency of the figure… 00:07:20 |

Disc 9
| | | |
| --- | --- | --- |
| 1. | | Volume 5 Chapter 2 00:04:43 |
| | | |
| --- | --- | --- |
| 2. | | Volume 5 Chapter 3 00:06:31 |
| | | |
| --- | --- | --- |
| 3. | | Where is Troy and Mycanae… 00:06:10 |
| | | |
| --- | --- | --- |
| 4. | | Volume 5 Chapter 4 00:00:44 |
| | | |
| --- | --- | --- |
| 5. | | Volume 5 Chapter 5 00:01:03 |
| | | |
| --- | --- | --- |
| 6. | | Volume 5 Chapter 6 00:03:29 |
| | | |
| --- | --- | --- |
| 7. | | Volume 5 Chapter 7 00:06:51 |
| | | |
| --- | --- | --- |
| 8. | | Volume 5 Chapter 8 00:01:07 |
| | | |
| --- | --- | --- |
| 9. | | Volume 5 Chapter 9 00:02:09 |
| | | |
| --- | --- | --- |
| 10. | | Volume 5 Chapter 10 00:04:42 |
| | | |
| --- | --- | --- |
| 11. | | Volume 5 Chapter 11 00:01:27 |
| | | |
| --- | --- | --- |
| 12. | | Volume 5 Chapter 12 00:03:39 |
| | | |
| --- | --- | --- |
| 13. | | Volume 5 Chapter 13 00:01:59 |
| | | |
| --- | --- | --- |
| 14. | | Volume 5 Chapter 14 00:00:36 |
| | | |
| --- | --- | --- |
| 15. | | Volume 5 Chapter 15 00:02:15 |
| | | |
| --- | --- | --- |
| 16. | | Volume 5 Chapter 16 00:04:34 |
| | | |
| --- | --- | --- |
| 17. | | My father was hugely pleased with this theory… 00:02:36 |
| | | |
| --- | --- | --- |
| 18. | | Volume 5 Chapter 17 00:01:32 |
| | | |
| --- | --- | --- |
| 19. | | Volume 5 Chapter 18 00:01:03 |
| | | |
| --- | --- | --- |
| 20. | | Volume 5 Chapter 19 00:02:12 |
| | | |
| --- | --- | --- |
| 21. | | Volume 5 Chapter 20 00:01:40 |
| | | |
| --- | --- | --- |
| 22. | | Volume 5 Chapter 21 00:02:48 |
| | | |
| --- | --- | --- |
| 23. | | Volume 5 Chapter 22 00:01:04 |
| | | |
| --- | --- | --- |
| 24. | | Volume 5 Chapter 23 00:00:42 |
| | | |
| --- | --- | --- |
| 25. | | Volume 5 Chapter 24 00:01:13 |
| | | |
| --- | --- | --- |
| 26. | | Volume 5 Chapter 25 00:00:42 |
| | | |
| --- | --- | --- |
| 27. | | Volume 5 Chapter 26 00:02:18 |
| | | |
| --- | --- | --- |
| 28. | | Volume 5 Chapter 27 00:02:14 |
| | | |
| --- | --- | --- |
| 29. | | Volume 5 Chapter 28 00:04:50 |

Disc 10
| | | |
| --- | --- | --- |
| 1. | | Volume 5 Chapter 29 00:02:52 |
| | | |
| --- | --- | --- |
| 2. | | Volume 5 Chapter 30 00:01:35 |
| | | |
| --- | --- | --- |
| 3. | | Volume 5 Chapter 31 00:04:01 |
| | | |
| --- | --- | --- |
| 4. | | Volume 5 Chapter 32 00:03:19 |
| | | |
| --- | --- | --- |
| 5. | | Volume 5 Chapter 33 00:02:17 |
| | | |
| --- | --- | --- |
| 6. | | Volume 5 Chapter 34 00:01:29 |
| | | |
| --- | --- | --- |
| 7. | | Volume 5 Chapter 35 00:01:58 |
| | | |
| --- | --- | --- |
| 8. | | Volume 5 Chapter 36 00:01:28 |
| | | |
| --- | --- | --- |
| 9. | | Volume 5 Chapter 37 00:02:17 |
| | | |
| --- | --- | --- |
| 10. | | Volume 5 Chapter 38 00:02:44 |
| | | |
| --- | --- | --- |
| 11. | | Volume 5 Chapter 39 00:01:16 |
| | | |
| --- | --- | --- |
| 12. | | Volume 5 Chapter 40 00:03:03 |
| | | |
| --- | --- | --- |
| 13. | | Volume 5 Chapter 41 00:00:25 |
| | | |
| --- | --- | --- |
| 14. | | Volume 5 Chapter 42 00:04:23 |
| | | |
| --- | --- | --- |
| 15. | | Volume 5 Chapter 43 00:03:00 |
| | | |
| --- | --- | --- |
| 16. | | Volume 6 Chapter 1 00:01:25 |
| | | |
| --- | --- | --- |
| 17. | | Volume 6 Chapter 2 00:04:35 |
| | | |
| --- | --- | --- |
| 18. | | Volume 6 Chapter 3 00:02:20 |
| | | |
| --- | --- | --- |
| 19. | | Volume 6 Chapter 4 00:00:22 |
| | | |
| --- | --- | --- |
| 20. | | Volume 6 Chapter 5 00:04:28 |
| | | |
| --- | --- | --- |
| 21. | | Volume 6 Chapter 6 00:05:29 |
| | | |
| --- | --- | --- |
| 22. | | Volume 6 Chapter 7 00:04:32 |
| | | |
| --- | --- | --- |
| 23. | | I thought, said the curate… 00:05:58 |
| | | |
| --- | --- | --- |
| 24. | | Volume 6 Chapter 8 00:03:47 |
| | | |
| --- | --- | --- |
| 25. | | Volume 6 Chapter 9 00:00:16 |
| | | |
| --- | --- | --- |
| 26. | | Volume 6 Chapter 10 00:02:32 |
| | | |
| --- | --- | --- |
| 27. | | Volume 6 Chapter 11 00:06:42 |

Disc 11
| | | |
| --- | --- | --- |
| 1. | | Volume 6 Chapter 12 00:03:09 |
| | | |
| --- | --- | --- |
| 2. | | Volume 6 Chapter 13 00:01:58 |
| | | |
| --- | --- | --- |
| 3. | | Volume 6 Chapter 14 00:01:53 |
| | | |
| --- | --- | --- |
| 4. | | Volume 6 Chapter 15 00:00:10 |
| | | |
| --- | --- | --- |
| 5. | | Volume 6 Chapter 16 00:01:36 |
| | | |
| --- | --- | --- |
| 6. | | Volume 6 Chapter 17 00:04:26 |
| | | |
| --- | --- | --- |
| 7. | | Volume 6 Chapter 18 00:03:45 |
| | | |
| --- | --- | --- |
| 8. | | Volume 6 Chapter 19 00:03:37 |
| | | |
| --- | --- | --- |
| 9. | | Volume 6 Chapter 20 00:01:00 |
| | | |
| --- | --- | --- |
| 10. | | Volume 6 Chapter 21 00:03:22 |
| | | |
| --- | --- | --- |
| 11. | | Volume 6 Chapter 22 00:03:50 |
| | | |
| --- | --- | --- |
| 12. | | Volume 6 Chapter 23 00:03:50 |
| | | |
| --- | --- | --- |
| 13. | | Volume 6 Chapter 24 00:03:26 |
| | | |
| --- | --- | --- |
| 14. | | Volume 6 Chapter 25 00:02:44 |
| | | |
| --- | --- | --- |
| 15. | | Volume 6 Chapter 26 00:02:18 |
| | | |
| --- | --- | --- |
| 16. | | Volume 6 Chapter 27 00:01:35 |
| | | |
| --- | --- | --- |
| 17. | | Volume 6 Chapter 28 00:01:13 |
| | | |
| --- | --- | --- |
| 18. | | Volume 6 Chapter 29 00:02:06 |
| | | |
| --- | --- | --- |
| 19. | | Volume 6 Chapter 30 00:01:31 |
| | | |
| --- | --- | --- |
| 20. | | Volume 6 Chapter 31 00:03:01 |
| | | |
| --- | --- | --- |
| 21. | | Volume 6 Chapter 32 00:06:02 |
| | | |
| --- | --- | --- |
| 22. | | Volume 6 Chapter 33 00:01:35 |
| | | |
| --- | --- | --- |
| 23. | | Volume 6 Chapter 34 00:04:05 |
| | | |
| --- | --- | --- |
| 24. | | Volume 6 Chapter 35 00:01:44 |
| | | |
| --- | --- | --- |
| 25. | | Volume 6 Chapter 36 00:03:13 |
| | | |
| --- | --- | --- |
| 26. | | Volume 6 Chapter 37 00:01:35 |
| | | |
| --- | --- | --- |
| 27. | | Volume 6 Chapter 38 00:01:07 |
| | | |
| --- | --- | --- |
| 28. | | Volume 6 Chapter 39 00:02:17 |
| | | |
| --- | --- | --- |
| 29. | | Volume 6 Chapter 40 00:02:54 |
| | | |
| --- | --- | --- |
| 30. | | Volume 7 Chapter 1 00:03:25 |

Disc 12
| | | |
| --- | --- | --- |
| 1. | | Volume 7 Chapter 2 00:02:18 |
| | | |
| --- | --- | --- |
| 2. | | Volume 7 Chapter 3 00:00:42 |
| | | |
| --- | --- | --- |
| 3. | | Volume 7 Chapter 4 00:02:07 |
| | | |
| --- | --- | --- |
| 4. | | Volume 7 Chapter 5 00:05:12 |
| | | |
| --- | --- | --- |
| 5. | | Volume 7 Chapter 6 00:00:50 |
| | | |
| --- | --- | --- |
| 6. | | Volume 7 Chapter 7 00:02:07 |
| | | |
| --- | --- | --- |
| 7. | | Volume 7 Chapter 8 00:02:52 |
| | | |
| --- | --- | --- |
| 8. | | Volume 7 Chapter 9 00:03:19 |
| | | |
| --- | --- | --- |
| 9. | | Volume 7 Chapter 10 00:00:39 |
| | | |
| --- | --- | --- |
| 10. | | Volume 7 Chapter 11 00:00:14 |
| | | |
| --- | --- | --- |
| 11. | | Volume 7 Chapter 12 00:01:32 |
| | | |
| --- | --- | --- |
| 12. | | Volume 7 Chapter 13 00:02:36 |
| | | |
| --- | --- | --- |
| 13. | | Volume 7 Chapter 14 00:02:07 |
| | | |
| --- | --- | --- |
| 14. | | Volume 7 Chapter 15 00:00:55 |
| | | |
| --- | --- | --- |
| 15. | | Volume 7 Chapter 16 00:03:52 |
| | | |
| --- | --- | --- |
| 16. | | Volume 7 Chapter 17 00:02:41 |
| | | |
| --- | --- | --- |
| 17. | | Volume 7 Chapter 18 00:03:41 |
| | | |
| --- | --- | --- |
| 18. | | Volume 7 Chapter 19 00:02:03 |
| | | |
| --- | --- | --- |
| 19. | | Volume 7 Chapter 20 00:01:59 |
| | | |
| --- | --- | --- |
| 20. | | Volume 7 Chapter 21 00:03:19 |
| | | |
| --- | --- | --- |
| 21. | | I declare I am interested in this story… 00:03:55 |
| | | |
| --- | --- | --- |
| 22. | | Volume 7 Chapter 22 00:00:35 |
| | | |
| --- | --- | --- |
| 23. | | Volume 7 Chapter 23 00:01:02 |
| | | |
| --- | --- | --- |
| 24. | | Volume 7 Chapter 24 00:01:54 |
| | | |
| --- | --- | --- |
| 25. | | Volume 7 Chapter 25 00:02:26 |
| | | |
| --- | --- | --- |
| 26. | | Volume 7 Chapter 26 00:01:57 |
| | | |
| --- | --- | --- |
| 27. | | Volume 7 Chapter 27 00:04:21 |
| | | |
| --- | --- | --- |
| 28. | | Then he had been as great, said my uncle… 00:03:25 |
| | | |
| --- | --- | --- |
| 29. | | Volume 7 Chapter 28 00:01:23 |
| | | |
| --- | --- | --- |
| 30. | | Volume 7 Chapter 29 00:03:42 |
| | | |
| --- | --- | --- |
| 31. | | Volume 7 Chapter 30 00:03:00 |
| | | |
| --- | --- | --- |
| 32. | | Volume 7 Chapter 31 00:03:27 |

Disc 13
| | | |
| --- | --- | --- |
| 1. | | Volume 7 Chapter 32 00:04:37 |
| | | |
| --- | --- | --- |
| 2. | | Volume 7 Chapter 33 00:00:54 |
| | | |
| --- | --- | --- |
| 3. | | Volume 7 Chapter 34 00:02:58 |
| | | |
| --- | --- | --- |
| 4. | | Volume 7 Chapter 35 00:02:37 |
| | | |
| --- | --- | --- |
| 5. | | Volume 7 Chapter 36 00:01:22 |
| | | |
| --- | --- | --- |
| 6. | | Volume 7 Chapter 37 00:01:31 |
| | | |
| --- | --- | --- |
| 7. | | Volume 7 Chapter 38 00:02:10 |
| | | |
| --- | --- | --- |
| 8. | | Volume 7 Chapter 39 00:01:35 |
| | | |
| --- | --- | --- |
| 9. | | Volume 7 Chapter 40 00:00:55 |
| | | |
| --- | --- | --- |
| 10. | | Volume 7 Chapter 41 00:02:31 |
| | | |
| --- | --- | --- |
| 11. | | Volume 7 Chapter 42 00:01:52 |
| | | |
| --- | --- | --- |
| 12. | | Volume 7 Chapter 43 00:03:18 |
| | | |
| --- | --- | --- |
| 13. | | 'Twas in the road betwixt Nismes and Lunel… 00:03:53 |
| | | |
| --- | --- | --- |
| 14. | | Volume 8 Chapter 1 00:01:45 |
| | | |
| --- | --- | --- |
| 15. | | Volume 8 Chapter 2 00:01:55 |
| | | |
| --- | --- | --- |
| 16. | | Volume 8 Chapter 3 00:01:40 |
| | | |
| --- | --- | --- |
| 17. | | Volume 8 Chapter 4 00:01:06 |
| | | |
| --- | --- | --- |
| 18. | | Volume 8 Chapter 5 00:02:11 |
| | | |
| --- | --- | --- |
| 19. | | Volume 8 Chapter 6 00:03:08 |
| | | |
| --- | --- | --- |
| 20. | | Volume 8 Chapter 7 00:00:27 |
| | | |
| --- | --- | --- |
| 21. | | Volume 8 Chapter 8 00:02:00 |
| | | |
| --- | --- | --- |
| 22. | | Volume 8 Chapter 9 00:03:36 |
| | | |
| --- | --- | --- |
| 23. | | Volume 8 Chapter 10 00:01:05 |
| | | |
| --- | --- | --- |
| 24. | | Volume 8 Chapter 11 00:02:24 |
| | | |
| --- | --- | --- |
| 25. | | Volume 8 Chapter 12 00:00:16 |
| | | |
| --- | --- | --- |
| 26. | | Volume 8 Chapter 13 00:01:41 |
| | | |
| --- | --- | --- |
| 27. | | Volume 8 Chapter 14 00:01:12 |
| | | |
| --- | --- | --- |
| 28. | | Volume 8 Chapter 15 00:01:40 |
| | | |
| --- | --- | --- |
| 29. | | Volume 8 Chapter 16 00:05:02 |
| | | |
| --- | --- | --- |
| 30. | | Volume 8 Chapter 17 00:01:49 |
| | | |
| --- | --- | --- |
| 31. | | Volume 8 Chapter 18 00:01:42 |
| | | |
| --- | --- | --- |
| 32. | | Volume 8 Chapter 19 00:05:38 |
| | | |
| --- | --- | --- |
| 33. | | - It was a little before the time… 00:03:05 |
| | | |
| --- | --- | --- |
| 34. | | The Story of the King of Bohemia… 00:04:13 |

Disc 14
| | | |
| --- | --- | --- |
| 1. | | I am far from controverting… 00:05:57 |
| | | |
| --- | --- | --- |
| 2. | | The heart, both of the master and the man… 00:04:00 |
| | | |
| --- | --- | --- |
| 3. | | Volume 8 Chapter 20 00:05:53 |
| | | |
| --- | --- | --- |
| 4. | | Volume 8 Chapter 21 00:00:56 |
| | | |
| --- | --- | --- |
| 5. | | Volume 8 Chapter 22 00:03:48 |
| | | |
| --- | --- | --- |
| 6. | | Volume 8 Chapter 23 00:01:59 |
| | | |
| --- | --- | --- |
| 7. | | Volume 8 Chapter 24 00:02:34 |
| | | |
| --- | --- | --- |
| 8. | | Volume 8 Chapter 25 00:02:22 |
| | | |
| --- | --- | --- |
| 9. | | Volume 8 Chapter 26 00:03:34 |
| | | |
| --- | --- | --- |
| 10. | | Volume 8 Chapter 27 00:00:41 |
| | | |
| --- | --- | --- |
| 11. | | Volume 8 Chapter 28 00:03:43 |
| | | |
| --- | --- | --- |
| 12. | | Volume 8 Chapter 29 00:00:13 |
| | | |
| --- | --- | --- |
| 13. | | Volume 8 Chapter 30 00:01:05 |
| | | |
| --- | --- | --- |
| 14. | | Volume 8 Chapter 31 00:02:06 |
| | | |
| --- | --- | --- |
| 15. | | Volume 8 Chapter 32 00:02:03 |
| | | |
| --- | --- | --- |
| 16. | | Volume 8 Chapter 33 00:04:37 |
| | | |
| --- | --- | --- |
| 17. | | Volume 8 Chapter 34 00:06:10 |
| | | |
| --- | --- | --- |
| 18. | | Shave the whole top of thy crown clean… 00:03:31 |
| | | |
| --- | --- | --- |
| 19. | | Volume 8 Chapter 35 00:01:24 |
| | | |
| --- | --- | --- |
| 20. | | Volume 9 Chapter 1 00:04:02 |
| | | |
| --- | --- | --- |
| 21. | | Volume 9 Chapter 2 00:03:23 |
| | | |
| --- | --- | --- |
| 22. | | Volume 9 Chapter 3 00:01:11 |
| | | |
| --- | --- | --- |
| 23. | | Volume 9 Chapter 4 00:02:03 |
| | | |
| --- | --- | --- |
| 24. | | Volume 9 Chapter 5 00:02:31 |
| | | |
| --- | --- | --- |
| 25. | | Volume 9 Chapter 6 00:02:46 |
| | | |
| --- | --- | --- |
| 26. | | Volume 9 Chapter 7 00:03:06 |
| | | |
| --- | --- | --- |
| 27. | | Volume 9 Chapter 8 00:02:55 |
| | | |
| --- | --- | --- |
| 28. | | Volume 9 Chapter 9 00:00:14 |

Disc 15
| | | |
| --- | --- | --- |
| 1. | | Volume 9 Chapter 10 |